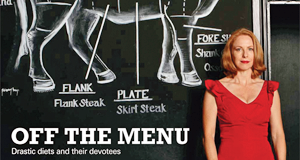 Drastic diets and their devotees.
Not quite the heading I expected – but I guess you have to have a hook!
Funny – because I don't see my diet as drastic! It has become a habit, and easy to do. What is a challenging is to eat this diet in today's grain and dairy sodden world. It is tricky for me eating the original human diet when eating out.
Back to the article – 3 different diets were included. Raw vegan, Paleo and Blood Type Diet. Each person once they changed their diet experienced profound health changes. Renata Holicova's muscle pain, back pain, joint pain disappeared on the raw vegan diet. My knee swelling, ganglion cyst and menstrual issues disappeared on the Paleo diet. (See – My Nutrition Journey) Vannessa Joyce's asthma disappeared and she lost 15 kilos on the Blood Type O diet. The O part is significant, in the blood type diet "O's"cut out grains, legumes and dairy. http://www.drlam.com/blood_type_diet/blood_o_chart.asp
A raw vegan diet does not contain animal products – including dairy. It does not contain grains or legumes in their dry state and probably minimal sprouted. This is also significant. Soaking and fermenting sprouted grains and legumes may reduce some of the anti-nutrients. Potatoes can not be eaten raw. This raw vegan diet most importantly does not contain gluten grains.
http://www.fromgreytogreen.co.nz
So there is a remarkable similarity in all three diets – no gluten grains, no or only soaked and sprouted legumes, no potatoes (another food with gut irritating properties) and no dairy!
Wow – sounds like once you cut out neolithic gut-irritating and auto-immune triggering foods (especially gluten) health improves – what-ever dietary route people take to find this out.
Interestingly – I am an A blood type. Supposedly able to well tolerate grains. The blood type diet simple does not work for me – yes this is another diet I have tried! The only thing I would agree with for me is that the protein choices of chicken and fish I find more enjoyable than red meat. I don't much like eating a lot of red meat. Loren Cordain makes an interesting observation of blood type diet – that it works best for O blood types. A Critical Examination of Blood Type Diets
Grains and diary have become two of the foods that we consume as a major part of our diets.No hunter or gatherer would eat these foods. To me it seems crazy that our diets have veered so far from those that we as human's thrive on. We as a race are disease ridden and overweight. Most of the diseases we have are called "diseases of civilisation". Type 2 diabetes, high blood pressure, obesity, arthritis, osteoporosis, I believe are not diseases of hunter gatherers.
Loren Cordain has written a number of scientific papers on the problems of grains, legumes, dairy and potatoes – some of which can be found on his blog:

http://thepaleodiet.blogspot.com/
Article: Cereal Grains, Humanties Double Edged Sword