Russian Borsch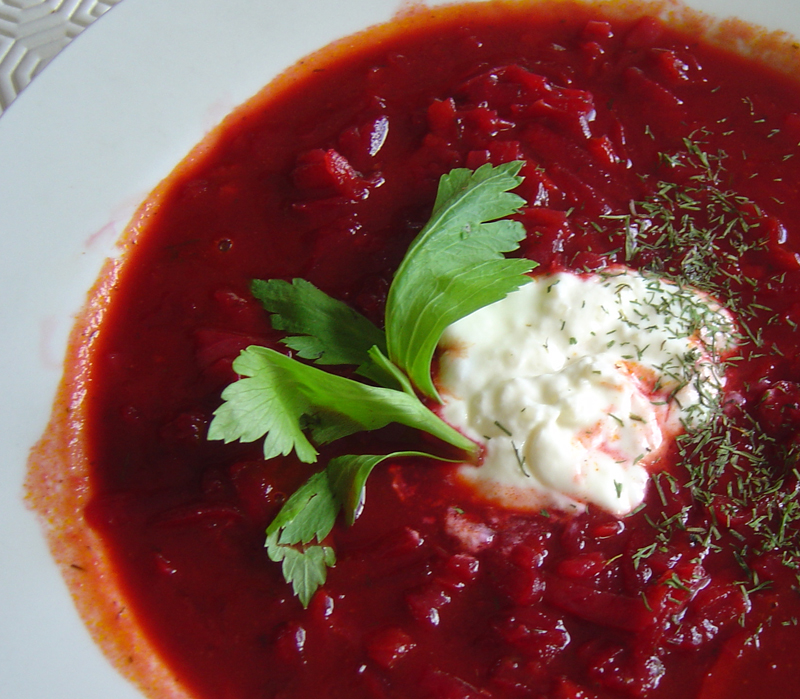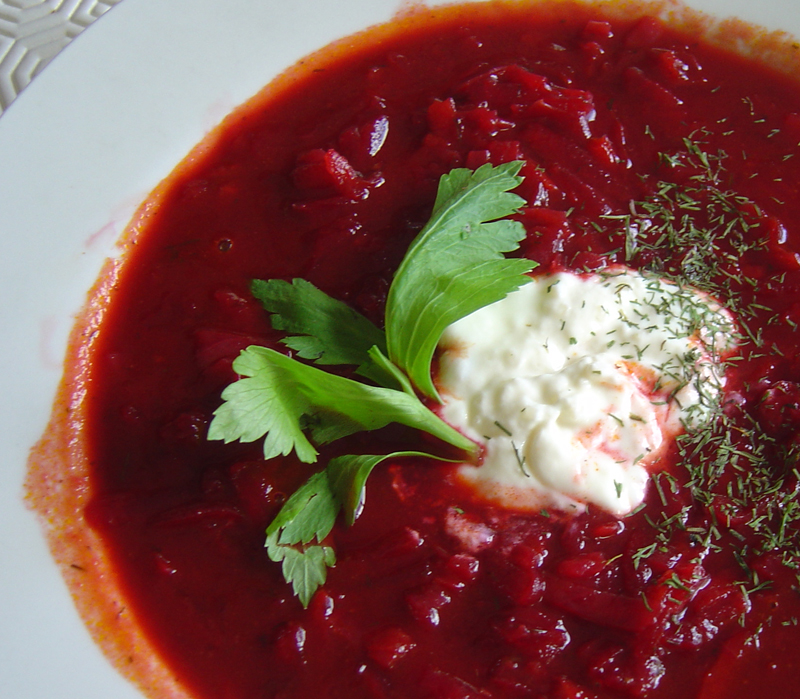 This is a family favourite. If you ever go to Russia, borsch is widely available in cafes, inexpensive and delicious. It is so easy to make, and the main ingredients are beef and beetroot. Beetroot is a nutritious root vegetable and is rich in anti-oxidants such as lutein and zeaxanthin, which are important for eye health. Beets are a unique source of phytonutrients called betalains. Betanin and vulgaxanthin are the two best-studied betalains from beets, and both have been shown to provide antioxidant, anti-inflammatory, and detoxification support. More on beetroot from The World's Healthiest Foods.

1.6 lb. (800 grams) stewing beef, (beef with bones etc is even better) cut into 1/2″ pieces
1 large onion, diced
2 tablespoons butter
1 quart (1 litre) water
1 quart (1 litre) beef stock (make sure it is gluten free if you are buying it)
6 oz. (180 grams) can tomato paste
1 tsp. salt
1/4 tsp. ground pepper
2 -3 large beetroots, cook til just cooked, cut very fine, or grate
2 cups green cabbage, finely shredded
1 cup shredded carrot
1 tbsp. dill tips (or 1 – 2 tsp dried)
2 cloves minced garlic
2 tbsp. lemon juice (about 1 lemon or to taste)
In large saucepan, put in butter, meat and onion. Saute until browned.
Add beef stock and water. Stir in tomato paste, salt and black pepper. Boil for about 1.5 hours, so the meat is soft.
Add beets, cabbage, carrots, and minced garlic. Simmer, uncovered 30 – 45 minutes longer or until vegetables are tender. Stir in lemon juice to taste. Add more water if needed. I like mine thick like a stew, but you might prefer it more like soup. Add dried dill tips to taste at the end or use fresh dill tips as garnish.
Serve with a dollop of sour cream (full fat, not 'lite')