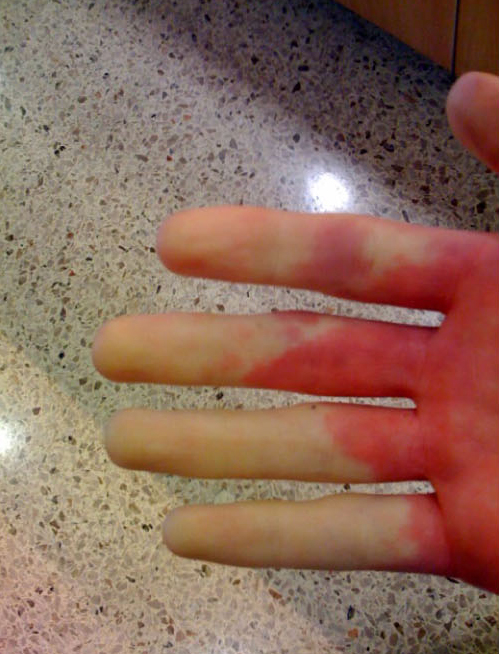 I've never done this before – 30 days of strict no alcohol paleo eating without cheats. Yes I tell people to do it – but I've NEVER done it. I have been strictly gluten free, low dairy, low nightshade paleo for about 2 years. I have a few small cheats here and there – something with sugar, chocolate, rice bread, icecream. Oh and then there is that glass (or 2) of wine every night. (Awesome NZ wine, current favourite Pino Gris!)
Despite the cheats, a paleo diet has been almost miraculous, no more PMS, menstrual pain, or constipation. Stable blood sugar, no more reactive hypoglycemia, stable wei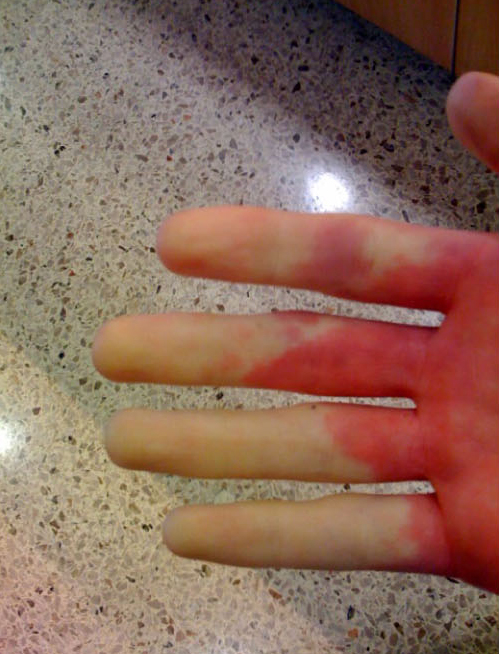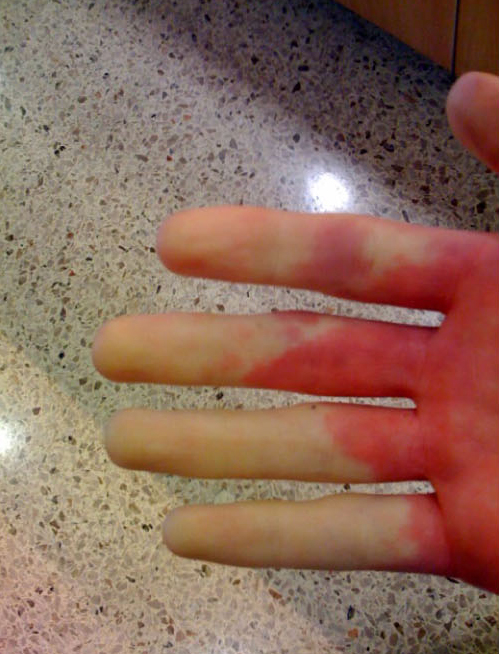 ght, good energy levels, and importantly for me – no more auto-immune joint swelling and pain. I combine the paleo diet with a tweeked Zone macro-nutrient ratio – it's what works for me. Protein at each meal, low to moderate carbs and a bit of fat.
However I do have a dodgy thyroid, (Hashimotos) and my Raynauds continued all through last winter – my fingers look a lot like this after a trip to the supermarket in winter, fortunately when I get back to my warm house my hands return quickly to normal.
My gym – CrossFit Auckland is running a 30 day Paleo Challenge from 1 – 30th July. With a points system, and a daily checklist. This paleo challenge is what I recommend people do – strict dairy, legume, grain, sugar AND alcohol free. (Like the Whole30 Paleo challenge)
I've never been alcohol free, or 100% dairy free. And given that auto-immune problems are my issue – I have never done a strict auto-immune paleo diet. That is NO nuts, nightshades or eggs.
A great opportunity I thought! Could I improve my thyroid? Would my Raynauds diminish? What about a month without my own personal crutch (who doesn't have one they feel they couldn't do without?) – that evening glass of wine?
So July 1st I started a strict auto-immune paleo diet.
As I imagined the wine was the toughest. Not that I have much, nor do I like to get the slightest bit drunk, it really is a psychological habit more than anything. For the first few nights, I so missed it. I noticed something else interesting – I had a much greater need for evening carbs. My dinner usually consisted of some protein, lots of salad and non starch veggies and a glass of wine. Without the wine I needed some starchy carbs. And something to drink to replace it. We are in the depths of winter – I find ginger and lemon tea works. (Anyone who has a real winter would laugh at an Auckland one – it never gets below freezing, and day temps are around 50 – 59F i.e. 10 – 15C).
Interesting thing about alcohol is that it once metabolised by the liver it forms acetyl-CoA – this is then free to enter directly into the citric acid cycle. Thus it provides energy to cells much like a carbohydrate. So when you remove alcohol and the additional sugars found the wine, I didn't feel sated until I'd eaten some starch to replace it.
Our paleo checklist also includes about 1000mg EPA+DHA per day, drinking 2 litres, getting 8 hours or more sleep, and exercise (CrossFit). Pre and post workout meals, and regular meals – 4 per day. (I tend to skip meals!)
It's day 20, so far I've had no food cheats. Even going out to dinner, although challenging- both times to Asian restaurants making sure there were no grains / legumes in the dishes I ordered.
As an aside one of the dinners was with acquaintances we hadn't seen for a couple of years. The last time I had dinner with one particular woman we talked about diets, and I suggested she try being gluten free after a string of symptoms suggested to me that she was gluten sensitive. To my surprise she told me that since that day she had been gluten free and it changed her life, no more gut issues, better energy, sleep and health.
I guess you are wondering if any of this made a difference – has it been worth it? Well to my surprise my Raynaud's is hardly there at all. No white fingers at the supermarket! None at the gym handling cold kettlebells, none hanging wet washing out. Amazing. What has changed? I've had no nuts, no nightshades, no eggs, no dairy and no alcohol. I've increased my carbs, anecdotally I've heard some women's Raynaud's gets worse on paleo – my guess is a very low carb diet exacerbates it. I've also increased exercise – I'm doing 4 x CrossFit a week, up from 2. (And recovering really well and feeling great) I'm eating regularly and taking fish oil daily (fish oil is known to make a difference – although it didn't previously for me) The other thing that is probably helping is daily magnesium, I've taken it sporadically in the last couple of years, but now daily. Magnesium levels drop in women with Raynaud's and it is a recommended supplement. (I take Healtheries Magnesium Chlelate, 2 tabs at dinner – helps give a deeper sleep as well) It may also pay to take extra anti-oxidants for Raynaud's especially secondary, vitamin C and selenium were found to be deficient in this study, where Raynaud's was secondary to systemic sclerosis.
26th July update; Today for the first time I had a Raynauds attack after spending a lot of time holding chilled food. Strange I thought. Until I looked back at my day – I'd had nothing to drink or eat for 6 hours (just being busy and not noticing). Sure enough dehydration is a common trigger, and skipping meals I'm pretty sure is too. During this paleo challenge I've been drinking more than I normally would – not allowing myself to become dehydrated (until today). Is this yet another reason why it's kept at bay?
I'm getting a thyroid test next week and will update you on that.
And I guess you are wondering if I'm losing weight. Well no – but size – yes a little, but then despite the fact I'd like to see my abs, I'm not needing to lose body fat. I'm almost down to my leanest where I can fit comfortably into my "skinny" dress. (The one that got uncomfortably tight after my mindless eating episode)
Oh- and the other question I get is – if you don't eat grains, legumes, dairy, eggs, nuts and nightshades, what the hell do you eat?
Here we are then – a sample day:
First thing – hot chocolate! 1 teaspoon of pure cocoa powder in hot water, and about a tablespoon of coconut cream added. (I use coconut cream without the thickeners like guar gum as they don't agree with me and they are legume extracts. Ayam and Gata coconut cream are additive free)
Cup of coffee – espresso with coconut cream
Breakfast – either fresh salmon cooked, or meat reheated. Plus fresh fruit – banana if I'm going to the gym or berries and a kiwifruit if not.
Post workout – 1/2 banana or some sweet potato, and cold meat
Lunch – usually late afternoon – left over dinner reheated plus salad. Or chicken liver or salmon cooked with a bit of reheated starchy veg like kumara, pumpkin, sweet potato or yams, and mesclun salad with homemade olive oil / balsamic dressing.
Dinner – any kind of meat, last night it was lamb roast, (I'm a lazy cook) I just put everything in a roast dish. Lamb, red onions, parsnip, pumpkin, sweet potato, beetroot, courgettes, carrots etc. When cooked I have a bit of everything, plus a big salad.
My protein portion is about 100 grams at each meal, 1/2 for a snack.
Drinks – water, fruit teas, cocoa and 2 coffees.
I've worked out I get roughly 70 grams protein (that's 1.4 grams per kilo body weight)
About 70 – 100 grams carbs (that's 1.4 – 2 grams per kilo body weight)
And I have no idea how much fat. But I'm not heavy handed with it. Firstly I don't feel great with a ton of fat and secondly I put on weight if I eat too much.
Even though I've got 10 days to go – this has been well worth the extra effort to be super strict, to try a strict auto-immune version and to discover the added benefit of diminished Raynauds.
Would I recommend you try this? YES – cheats and a half-arsed attempt at paleo will not give you the full benefit of a strict trial.