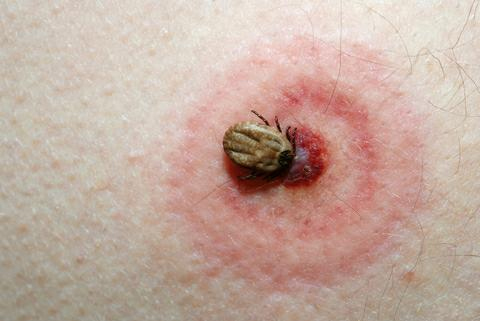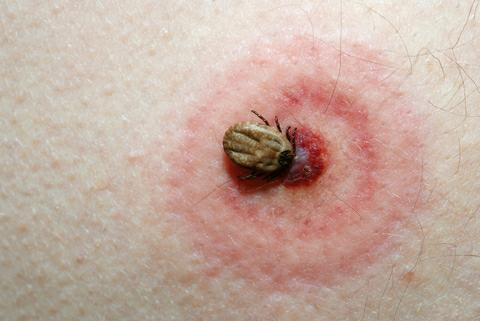 In 2009 I had a client who got physically sick, i.e. vomited and diarrhea whenever she ate red meat. This had not always been the case -she ate eat red meat without issue up until about 2 years previously. She could eat poultry or fish without a problem. She had recently switched to an almost vegetarian diet, however she also had mild IBS symptoms, and wanted to eat red meat again, and try a paleo diet.
I wondered what might have bought on this allergy, so googled "red meat allergy" and came across an interesting article in the Australian News "One tick red meat can do without" describing a growing number of people have an allergic reaction to red meat as a result of an earlier tick bite. My client had recently shifted from Australia so I asked her if she'd had tick bites and a reaction to them. YES! She lived in an area infested with ticks, and she'd been bitten a number of times and reacted. Her reaction to red meat was on the lower end of the scale – vomiting and diarrhea, however some people get hives and even full-blown anaphylaxis, when they develop this allergy. Anaphylaxis is an extreme immune system response that can cause breathing difficulties, sudden drop in blood pressure, unconsciousness heart failure and even death.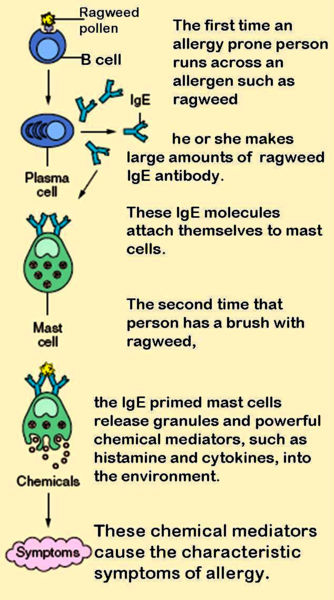 There were at the time number of theories as to why a tick bite triggers an IgE immune reaction to red meat. Cross reactivity was suggested, where a person reacts to something in the tick bite – the saliva for example and then reacts to the same substance in another product or food. So every time the same substance is presented to the body – a person reacts to it as if to a foreign substance.
Researchers currently think that the tick bite causes production of an antibody to a carbohydrate called galactose-alpha-1,3-galactose (alpha-gal), present in the saliva of ticks which also happens to be present on red meat.

This explanation from Australian information on tick bite allergy:
Tick Bites and Red Meat Allergy
Australian allergic diseases physicians have recently described an association between tick bites and the development of red meat allergy (references 8, 10-12), which sparked interest from US researchers (reference 9). They have subsequently identified the part of the red meat allergen giving rise to the allergic reactions, galactose alpha-1,3-galactose. These allergic reactions to red meat typically occur in individuals who have had local allergic reactions to ticks. Within six months or so they develop anaphylaxis to red meat which almost invariably occurs several hours after the eating of the red meat. Rarely, these red meat allergic reactions, as with anaphylaxis in general, may be profound due to the co-existence of an increased number of mast cells (mastocytosis).
8. Pearce RL, Grove DI. Tick infestation in soldiers who were bivouacked in the Perth region. Med J Aust. 1987 Mar 2;146(5):238-40.
9. van Nunen S, O'Connor KS, Fernando RL, Clarke LR and Boyle RX. The Association Between Ixodes holocyclus Tick Bite Reactions and Red Meat Allergy. Internal Medicine Journal 2007; 39(Suppl 5): A132.
10. Commins S, Satinover S, Hosen J, Mozena J, Borish L, lewis B, Woodfolk J, Platts-Mills T. delayed anaphylaxis, angioedema or urticaria after consumption of red meat in patients with IgE antibodies specific for galactose- alpha-1,3-galactose. Journal of Allergy and Clinical Immunology. 2009; Vol 123, Issue 2, 426-433.
11. van Nunen SA, O'Connor KS, Clarke LR, Boyle RX and Fernando SL. An association between tick bite reactions and red meat allergy in humans. Med J Aust 2009; 190(9): 510-511.
12. van Nunen SA, Zaininger A, Clarke LR and Fernando SL. Systemic Mastocytosis and Severe Anaphylaxis provoked by an IgE-Mediated Reaction to a Food. 2009 XXVIII Congress EAACI abstract #1554b.
13. van Nunen S, Clarke L, Coyle L, Stevenson W and Fernando S. Severe Anaphylaxis Provoked by IgE-Mediated Reactions to Food (Red Meat) in Two Patients with Systemic Mastocytosis. Internal Medicine Journal 2009; (Suppl 5): A145.
At the time there was no test to confirm that this was the cause of my client's red meat allergy. However it seemed the most likely explanation. She switched to red meat free paleo diet, and her IBS symptoms disappeared. After some time she tried a little red meat, and found she could tolerate it without symptoms. (Perhaps her previous inflamed, possibly leaky gut aggravated the situation by allowing these alpha-gal carbohydrates into the bloodstream where the body reacts to them?)
Can you test to find out if you react to galactose-alpha-1,3-galactose?
Yes – tests are now available. This recent article explains:
New Alpha-Gal IgE assay is the first to specifically detect antibodies associated with a delayed onset allergic reaction to beef, pork, and lamb, the development of which has been linked to tick bites
Kansas City, MO – September 13, 2010 — Viracor-IBT Laboratories announced the launch of the first commercially available assay to detect IgE antibodies against galactose-alpha-1,3-galactose (Alpha- Gal). The Alpha-Gal IgE assay will assist clinicians in the identification of a recently discovered type of delayed, IgE-based, allergic reaction following the ingestion of certain meats.
Alpha-Gal is a carbohydrate (sugar) found in the meat of non-primate mammals, cow's milk and dog and cat dander. Persons who are Alpha-Gal IgE positive have previously been sensitized to Alpha-Gal after being bitten by certain types of tick; cases have been concentrated predominantly in the Southeast United States and parts of Australia.
Other than the allergic reaction being delayed-onset, the symptoms of Alpha-Gal allergy are similar to those of other food allergies and can result in hives, swelling, intestinal irritation, and anaphylaxis—a life-threatening medical condition.
"Alpha-Gal presents a real paradigm shift in allergy thinking and testing. The traditional view is that people become sensitized to foods during childhood and subsequent exposure to that particular food results in an immediate allergic reaction," said Dr. John F. Halsey, Scientific Advisor to Viracor-IBT Laboratories. "The delayed onset of the IgE-based allergic reaction to Alpha-Gal makes it more difficult to determine a linkage between the offending food and the allergic reaction. Standard food allergy tests are not sensitive enough to detect IgE against Alpha-Gal, which represents only a small fraction of the allergen preparation used in the standard assay. In the ViraCor-IBT Alpha-Gal IgE assay launched today, the allergen is pure Alpha-Gal, resulting in a greatly enhanced sensitivity."
Although it has been difficult to estimate the prevalence of allergic sensitization to Alpha-Gal, recent studies by Thomas Platts-Mills, MD, PhD and Scott Commins, MD, PhD (who in conjunction first described the IgE-based delayed allergic reaction) have shown that Alpha-Gal allergies are more common that initially believed.
The team screened samples from 60 patients with suspected food allergies that could not be directly linked to a specific food source. Eighty percent (80%) of these patients had been recently bitten by a tick, with IgE antibodies to Alpha-Gal present in over 40% of samples.
"Viracor-IBT is pleased to add the galactose-alpha-1,3-galactose (Alpha-Gal) IgE assay to our extensive allergy and immunology menu," said Steve Kleiboeker, PhD, Chief Scientific Officer of Viracor-IBT Laboratories. "Although tests that measure IgE levels to meats have been around for 30 years, this test is the first available commercial assay that is both highly specific and sensitive for IgE to the Alpha-Gal carbohydrate allergen present in certain meats. The Alpha-Gal IgE assay offers a new level of information that can provide physicians a more comprehensive picture of their patient's condition and allergic risk profile."
Patient results for the galactose-alpha-1,3-galactose (Alpha-Gal) IgE assay are provided within two business days of receipt of sample by the laboratory.
Reference:
Viracor-IBT Laboratories Launches the First Assay to Identify a New Type of Delayed, IgE-based Allergic Reaction to Certain Meats, September 13, 2010, PRWEB
Literature:
Chung CH, Mirakhur B, Chan E, et al. Cetuximab-induced anaphylaxis and IgE specific for galactose-±-1,3-galactose. New Engl J Med. 2008;358:1109-1117.

Commins SP, Satinover SM, Hosen J, et al. Delayed anaphylaxis, angioedema, or urticaria after consumption of red meat in patients with IgE antibodies specific for galactose-±-1,3-galactose. J Allergy Clin Immunol. 2009;123(2):426-433.

Commins SP and Platts-Mills TA. Anaphylaxis syndromes related to a new mammalian cross-reactive carbohydrate determinant. J Allergy Clin Immunol. 2009;124(4): 652-657.

Van Nunen S A, O'Connor, KS, Clarke LR, Boyle RX, Fernando SI. An association between tick bite reactions and red meat allergy in humans. Med J Aust. 2009;190:510-511.
More easy to read articles on the topic:
Tick Bites can cause delayed, IgE-based Allergic Reaction to Certain Meats
Things learned as an intern: Tick bites can cause meat allergies
MEDICAL MYSTERIES: Man's Sudden Food Allergy Was a Medical Mystery for Months
Allergic Living "Profile: Author John Grisham's Allergy Mystery"
Clinical Study: The relevance of tick bites to the production of IgE antibodies to the mammalian oligosaccharide galactose-α-1,3-galactose
July 2012 -Recent Paper A Peculiar Cause of Anaphylaxis: No More steak?
Science Magazine, November 2012 Ticked Off About a Growing Allergy to Meat