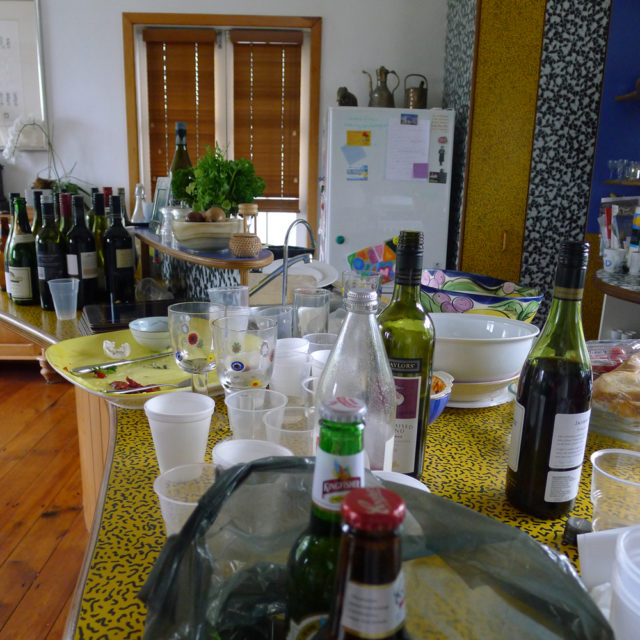 The morning after the night before: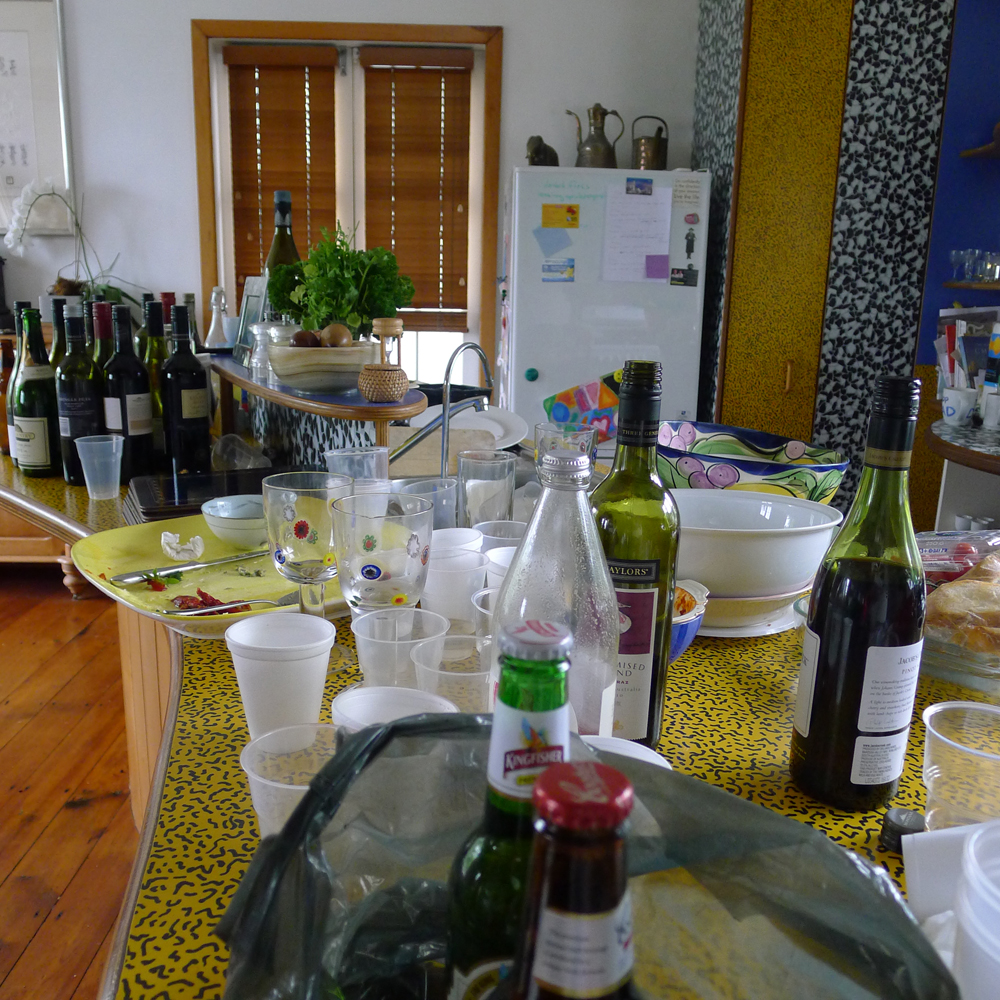 The night before being our (pre) Christmas Party. After months of bugging from our 15 year old (you guys have been invited out to so many people's places and you've not returned the favour – when are you going to have the party you promised?!) Well last Saturday, we finally got it together and had the Party.
On the invite I said we'd serve a buffet meal. On Monday we added up the RSVPs and it looked like about 100 people, including kids. Oh my, what was I thinking?. (The kids were banished downstairs for video-sedation, or outside to play tag, by the way)
I wanted to make it as paleo compatible as possible – then I could eat anything. Being as there were so many people and I wanted to make it as easy as possible for myself, food that did not need much preparation and and have little to do on the day. I opted for a fairly straight forward conventional Christmas buffet.
Here's what I put together with a few of my favourite easy recipes thrown in.
Snacking for starters:
Antipasto and cheese plates. Dips and veggies. Bowls of nuts. Chicken wings.
Antipasto plates – straightforward – sundried tomatoes, artichoke hearts, olives, smoked salmon, a variety of cheeses, salamis and meats, rice crackers, grapes. I'm sure you're more adventurous than this. A guest brought the most amazing home made pork terrine.
Rice crackers: Not Paleo by the strictest definition, but white rice is a non-toxic / safe starch, i.e. it doesn't contain the difficult to digest proteins that other grains do, and it's gluten free. I buy the plain ones as flavoured ones often have MSG and other soy (which contains wheat). So check your labels. If you are into carb counting – each little rice cracker has about a gram of carbohydrate.
Dips and vegetable sticks: I made an old favourite capsicum and chilli dip – I always get compliments for this, you can make it the day before, easy and devine. And rocket pesto.  There are lots of paleo / primal dips you can make – home made garlic aoli, guacamole, fresh salsa, sour cream + crumbled feta and chives, sour cream and tinned salmon blended and seasoned with dill, etc.
Vegetable sticks: Carrot, celery, capsicum, cucumber, and blanched cauliflower / broccoli pieces.
Chips: An alternative to cornchips, if you have time would be to thin slice sweet potato and fry in coconut oil. (I admit, I did put out a couple of bowls of corn chips – some paleo people will have them occasionally without problems)
Recipes:
Red Bell Pepper and Chilli Dip
3 red bell peppers, halved, de-seeded
1/4 cup olive oil
1/4 tsp chilli powder
1 tablespoon wine vinegar, or lemon juice
1 cup almonds, or any preferred nut
1 tsp salt
Heat oven to 200C. Lightly rub pepper halves with oil and place in roasting pan. Roast for 20 mins until skins blister. Cover and leave to cool, peel off skins.
Place pepper flesh, oil, chilli, vinegar and salt into food processor, mix. Add almonds and process until smooth. Refrigerate – keeps for about 1 week. (About 2 cups)
Classic Basil or Rocket pesto
4 cloves garlic
1 cup rocket or basil leaves, tightly packed
1 tsp salt
1/4 cup pine-nuts
1/4 cup grated parmesan
1/4 extra virgin olive oil
Put garlic and rocket leaves into processor and pulse to chop. Add salt, pineuts and parmesan, process well to combine. with motor running drizzle in oil to form a smooth paste. (About 1 cup)
The Buffet:
We had a whole ham, about 9 kg (20lb). It took 3 hours to heat through, 10 minutes per pound. This is the glaze I used. (Don't worry – a little honey is just fine) I recommend a free range leg like Freedom Farm's if you are in New Zealand. The ham was served with some nice off the shelf mustard.

Honey Thyme Glaze for Ham
6 tablespoons melted butter
4 tablespoons chopped fresh thyme or 4 tsp dried
1/2 cup cider vinegar
1/2 cup honey
2 tablespoons brown sugar
2 tsp Worcestershire sauce
Leave ham out of fridge for 2 hours to reach room temperature
Heat the glaze ingredients and mix together
Score skin in diamond pattern to where fat meets the meat
Brush glaze over meat, cook in oven 325F for 10 minutes per pound until inside temperature is 100 degrees – it just needs heating up. My 19 pound ham took just on 3 hours. Baste with juices and glaze while cooking.
Being summer here means lots of yummy fresh New Zealand lamb around. I cooked a couple of legs. They took two hours. 1.4kg each (3 lbs) Served with mint sauce.
For vegetarians we had a courgette quiche (no crust).
I also made a Chicken Curry Mayonnaise (I made this the day before and chilled it) You can serve this with rice. It's yummy – here is the recipe:
3 whole chickens (boil in water with 1 tsp salt until cooked, then shred chicken, remove bones)
2 large onions, sliced into rings
25 ml oil
15ml curry powder
15 ml vinegar
30 ml apricot jam or 1/4 cup cooked apricots, mashed
250ml mayonnaise (home made or one with good oil like olive)
75 ml water
Saute onions in oil slowly until soft
Add curry powder and vinegar, cook 1 minute
add apricot jam or puree and simmer 5 minutes
Cool
Arrange chicken on a serving dish
Mix mayonnaise with cooled curry mix, and pour over chicken
Put in refrigerator to cool, this can be made the day before.
Optional – Serve with white rice
(Don't throw away the cooking water – after stripping chicken flesh put the skin, larger bones back into the cooking water and use to cook chicken stock)
It's summer and salads are easy: as well as a fairly standard mixed green salad, my sister's potato salad , my mum's tomato, mint and and green bean salad,  we also had nutty rice salad, and a root vegetable salad, which can be made the day before and mixed together on the day. I like eating plenty of starchy vegetables, they taste great and many of us feel better and are healthier with some starch each day.
Nutty, seedy rice salad – this one gets everyone asking me for the recipe. Totally yummy.
3/4 cup rice, cook in boiling water, drain and leave to cool
1 large onion
1 – 2 carrots
Saute carrot and onion until soft.
1/2 cup pumpkin seeds
1/2 cup sunflower seeds
Roast very slowly in a pan on low heat, keep an eye on them and stir often, cook til just browned
Add:1/2 cup sliced almonds
1/2 cup sesame seeds
These will brown quite quickly – keep an eye on pan. Take off heat when browned and leave to cool
Mix rice, onion and carrot.
Add about 1/4 cup mayonnaise, 1/8 cup olive oil, 1/8 cup vinegar – I use balsamic
Add spices:
1 tsp ground cumin
1 tsp ground cardamon
1 tsp ground coriander seed
1 tsp curry powder
Add salt and pepper to taste, mix.
Just before serving add the nut/seed mix and stir through.
Root vegetable, herb and bean salad.
Sweet potato – 3 large – 1 each colour, I use kumara which has purple skin, 1 gold and 1 white.
(You can use other root vegetables, or pumpkin if you prefer) Chop into small cubes, toss in macadamia oil, put in roasting pan and roast until cooked. Moderate oven, approx 3/4 hour.
300 grams green beans, cut each into 2 or 3 pieces
Blanch in boiling water until they turn bright green, drain and leave to cool. The should still be crunchy
Herbs – large handful each of fresh mint, parsley and coriander
Chop finely
1 – 2 lemons, fresh juice.
When the vegetables are cool, add in herbs and lemon juice, season.
Pumpkin and green bean salad with sundried tomato dressing
Cube and roast the pumpkin
Blanch the green beans
Sundried Tomato Dressing
1/2 cup sundried tomatoes
1/4 cup red wine vinegar
3 cloves garlic
1 tablespoon balsamic vinegar
1/2 cup extra virgin olive oil
1 tsp sugar
salt and pepper
Heat vinegar and sundried tomatoes together; allow tomatoes to soak in hot vinegar to soften. Place all ingredients in food processor and mix. Do not process too finely – allow it to be a little chunky.
Dessert: It's strawberry season, and summer, so we had heaps of fresh strawberries, chunks of pineapple and grapes. (Grapes and pineapple are imported – so not the best choice! Seasonal fruit is always the better choice.) We did also have some meringues and cream – yum – a nice little treat bought by a guest. In my opinion a little sugar occasionally is really not a problem if you are not insulin resistant. And there was chocolate brownie too, gluten free. Sugar – yes I know! I cut it into little pieces – a sweet treat. A quick and easy recipe.