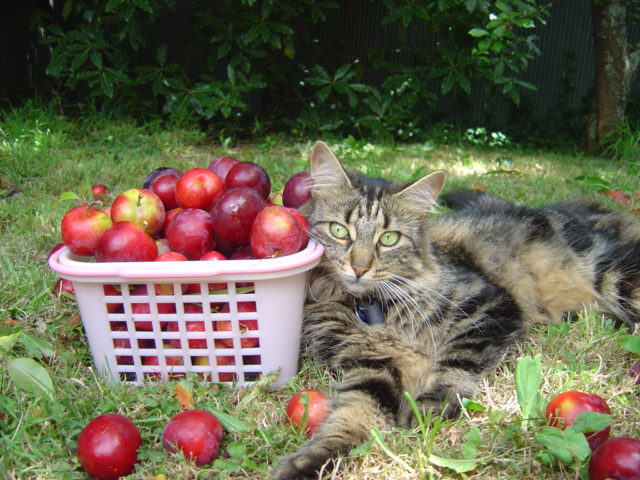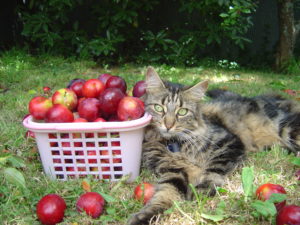 Fluffy our 6 year old cat was looking a little under the weather. Her third eyelid  was visible indicating all was not well. I took her to our local vet, Dr Lyn Thomson, who believes that our pet dogs and cats should be eating a natural, raw, species appropriate diet. (Ever seen a cat or dog processing and eating grains in the wild?)
I have been feeding Fluff a partly raw diet, I've been supplementing her wheat free (but not grain free) biscuits with liver, chicken necks, fish and meat.
Lyn feels Fluffy's tummy which she said is a bit grumbly and not happy, feels like a bit like irritable bowel. Or it could be worms of some type. So Fluffy was given a worm pill. Lyn also noted that her muscles were not as firm as they should be.
Lyn explained too that the diet we had her on was actually worse than an all biscuit diet, and may be contributing to her digestive issues:
Feed Raw and Dry at the Same Time?
Cats are adapted to preferentially use protein and fat as an energy source. In their natural habitat they consume prey that is high in protein, with moderate amounts of fat and minimal amounts of carbohydrate. Although cats can use carbohydrates as a source of metabolic energy, they have a limited capacity for carbohydrate digestion.
So what happens when we raise the level of carbohydrate we expect our cats to digest?
If a cat is fed high-carbohydrate food at the same time as raw food, the carbohydrates can interfere with the efficient absorption of the nutrients in the raw food, potentially cancelling out the benefits of the raw diet. Increased levels of crude fibre in feline rations increase fecal output, alter colonic microflora and fermentation patterns, alter glucose absorption and insulin secretion, and at high levels can depress diet digestibility.¹
What do we mean by depressing diet digestibility?
To understand how a food is digested, we need to take a journey through the intestinal tract of a cat. Imagine the digestive tract as a production line. If the first person in the line is inefficient, then the rest of the line can't hope to do their job properly. In the cat, the mouth is for ripping and tearing. There is no salivary amylase to digest carbohydrates, so the first stage in the digestive production line is the stomach. The cat, being an obligate carnivore, has a very acidic stomach, with a pH of 2, ideal for digesting protein and neutralizing bacteria.
Many processed pet foods have significantly increased the carbohydrate content of their cat foods, and have substituted animal proteins with plant-based proteins. The problem with this substitution is that it does have an impact on the digestive environment. In a cat eating a high carbohydrate-high plant protein-lower meat protein diet, we find that the acidity in the stomach changes. Gastric acidity is dictated by the meat content of the diet. The stomach becomes progressively more alkaline, heading for a pH of 4 or above.
In this less acidic environment, several problems arise in the first part of the production line. Gastric emptying slows down, contaminating bacteria are not destroyed, and raw meat and bones are not softened or broken down effectively as the digestive enzymes in the stomach only work in a very acidic environment. Feeding processed foods at the same time as raw foods can lead to the entire meal not being completely digested in the digestive tract.
Stomach acidity is the major regulator of pancreatic and liver ability to respond to food arriving in the small intestine. Food arriving in the small intestine with a pH of 2 or less triggers the release of two very important hormones, secretin and cholecystokinin. These two hormones are so important that without them, normal digestion of food just can't happen. The pancreas does not produce its juices and bile is not secreted to digest fats.
The result is maldigestion and as a consequence, malabsorption.² Maldigested carbohydrates get consumed by abnormal gut flora which flourish in the altered pH of e digestive tract. Fats are not digested, resulting in deficiency in the essential fat soluble vitamins, A,D,E and K.³ When incomplete digestion of starch and disaccharides occurs, it leads to an acidifying effect on the pH of the faeces, due to the fermentation of the undigested starches and disaccharides in the intestines. A change in pH at any point along the digestive tract will affect the efficiency of the digestive tract. Digestive enzymes function within a specific pH range, and gut flora is also affected by changes in pH. The link between an abnormal gut flora and compromised immunity has been established in man and animals.
To digest cooked foods, the cat's digestive system has to work a bit harder than to digest raw foods. Raw foods come with live enzymes to help in the digestive process, while cooked foods are less alive. Often, a cat who has never had raw food can be tempted to eat a raw diet by using cooked foods that he is familiar with. Mixing the familiar cooked or tinned high-meat content food with a little raw food can be a good starting point when transitioning. My best advice is not to try to transition a cat with a mixture of dry processed food and raw food. The carbohydrate content of the dry food will reduce his ability to fully digest his raw food, and will make him vulnerable to bacterial infection. When you make a commitment to raw feed, get the biscuits out of the house!
So from now on – it is a species appropriate diet for our Fluffy. This should fix her digestion, increase her muscle strength and firmness, and make her cat look glossy.
I'm hoping she will quickly get used to eating an  all raw food fairly quickly as she already eats something raw most days. Apparently this is not the case with all cats – especially those fed an all biscuit diet. Cats like humans can become addicted to their non species appropriate foods. Cat can become addicted to carbohydrates! So for some cats the transition to raw food can be a slow process. More on transitioning your carb addicted cat here: How To Convert The Most Stubborn Biscuit-Addicted Cat to a Raw Food Diet
I bought a packet of rabbit and heart mix from the raw meat range that Raw Essentials carries.
I'm really interested to see what difference Fluffy will experience. Other pet owner have had dramatic health improvements in their cats and dogs feeding them species appropriate diets. Ezcema, psoriasis, auto-immune disorders and gut issues all improve. More stories here.
  4. R Fuller, "Probiotics in Man and Animals," The Journal of Applied Bacteriology 66, no. 5, May 1989, 365-378.