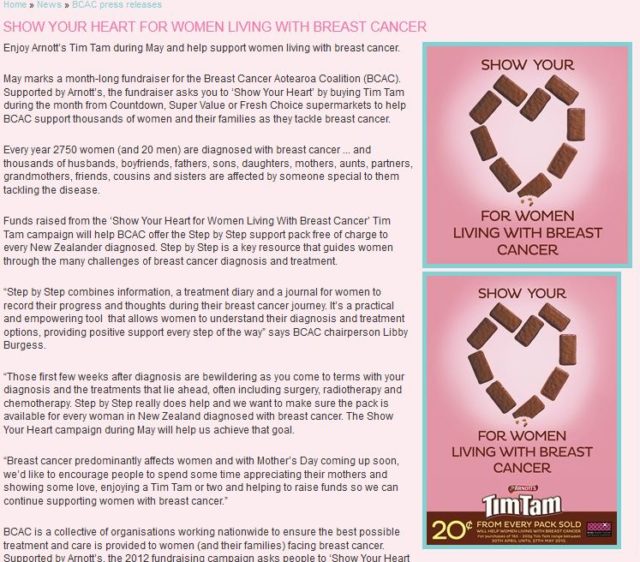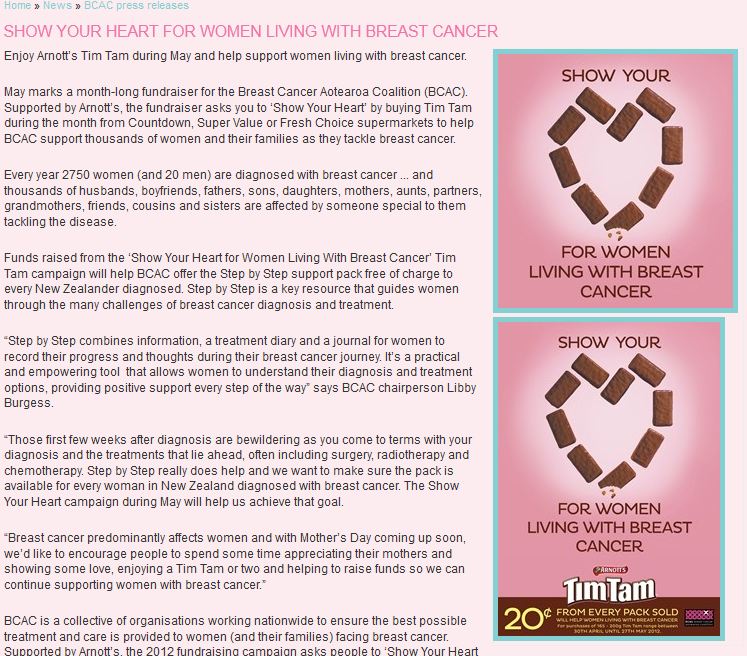 This just makes me mad!
In our local supermarket, there is a display – a large pallet of Tim Tams, begging to be bought. Actually Arnotts are begging us to buy a packet and if you do, 20cents goes to Breast Cancer Aotearoa Coalition. I pulled this screen shot off http://www.breastcancer.org.nz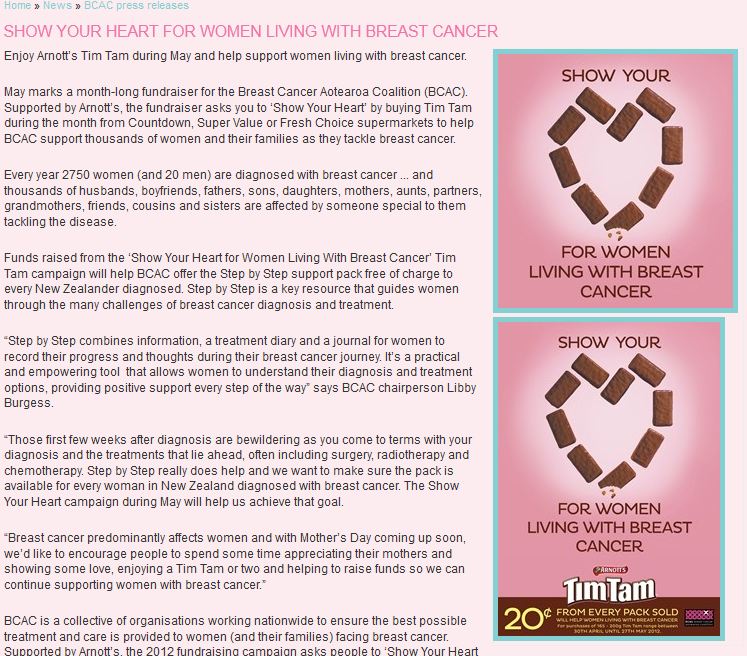 Why is this so wrong?
I doubt whether Arnotts New Zealand have the slightest bit of interest in reducing Breast Cancer. If they did they wouldn't be selling a product which does ZERO to decrease the risk of breast cancer, and in fact it is more likely to increase your risk.
Arnotts have made it a mission to target women to buy Tim Tams – just look at this advert: Watch it on You Tube here.
Arnotts are interested purely in using this opportunity to make more money out of their target market. They are trying to make us think we are helping other women if we buy a packet of their sweet poison.
Here are the ingredients of  Tim Tams:
Milk chocolate (38%)(sugar, milk solids, cocoa butter, cocoa mass, emulsifiers (e322: soy, e476), flavouring), wheat flour, sugar, vegetable oil, golden syrup, colours (e102, e110, e129, e133, e150), milk solids, cocoa, salt, raising agent(e500), emulsifier (e322: soy) and flavouring.
Main ingredients? Sugar, highly refined wheat flour, vegetable oil, plus a good number of additives.
Nutrient content – low
Breast Cancer protective nutrients – non existant
What foods are highly correlated with breast cancer? Yep – high glycemic index carbohydrates High glycemic diet and breast cancer occurrence
If Arnotts really wanted to reduce breast cancer risk in women they would take Tim Tams and all their other high glycemic, nutrient deficient, refined grain plus vegetable oil,  additive enriched products off the market.