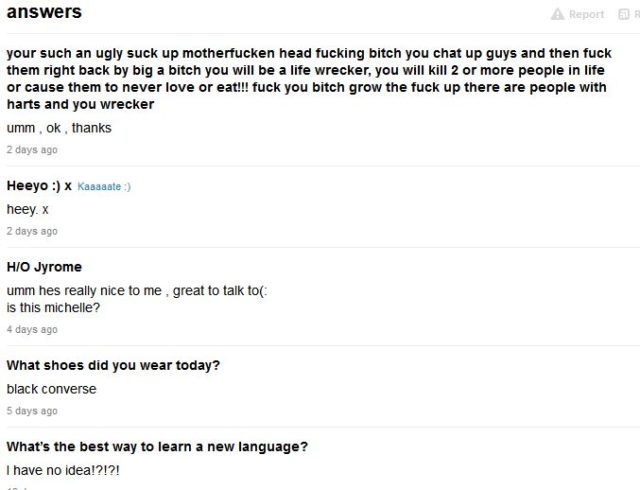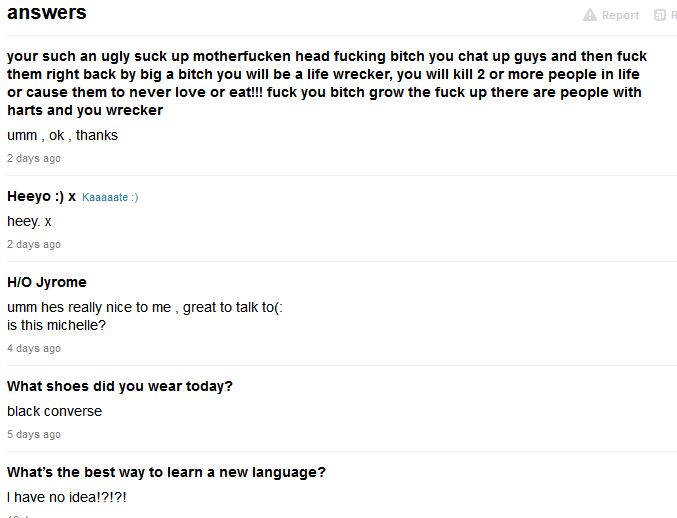 Today's news item in the NZ Herald, we hear that children are bullied on the social network site Askfm
I thought of posting an Ask.fm page of kids I know – 14 and 15 year olds, but no – too close to home – so I went straight to Ask.fm and clicked on a few names
Here's one http://ask.fm/lorenallison
Latest post (shut your eyes if you are easily offended)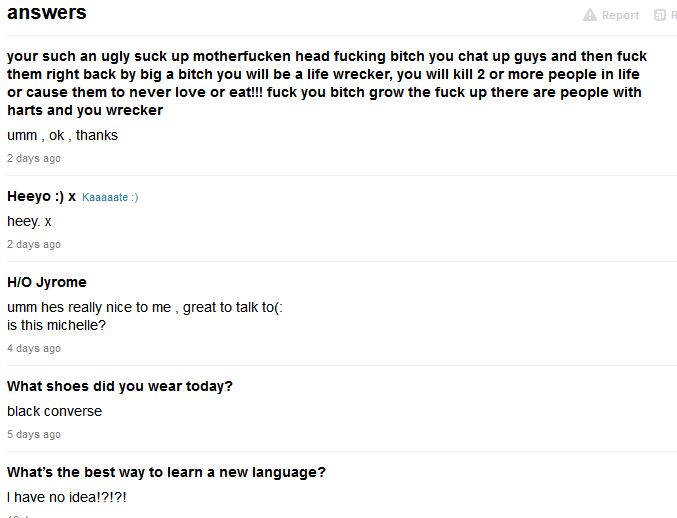 "It's all the rage – and all the kids are doing it.
But many are also being subjected to horrendous abuse, threats and bullying while using the social networking site Ask.fm. It starts out as harmless fun, teenagers asking each other random questions and getting to know each other online. But it can soon turn very nasty, and instead of turning their backs on the site, young Kiwis are being sucked into a vicious cycle of curiosity – and pain. The Herald spoke to teens and their parents in New Zealand about their experiences on Ask.fm."
Kids bullied, kids committing suicide. Other kids – could be yours are doing the bullying, writing S%@t like that above – to strangers, or worse still kids they know.
Yes – I think it is junk and it makes me mad that there is such as site there.
But what about parental responsibility?
I have teenagers. We are strict with their online time, where they can go and what they can do, but their friend's parents are not. Their friends on online 24 hours a day – yes texting and facebooking and into the wee hours when they should be asleep. If you saw what your kids do and talk about online you could possibly be shocked. I know we have been – with our children and their friends. And we have had to, in the interest of safety, show other parents conversations – and these parents have been shocked.
Where has parental responsiblity gone?
How would you feel if you found out that your child was being an online bully because you allowed them unfettered internet access at all hours? Because it could well be your child that is doing the bullying.
Do you:
Make sure all your kids electronics are out of their bedroom? Games, TV's, electronic equipment.
Take your kids cellphones, laptops, Ipods, and smart phones off them at night?
Use Kidswatch to allow time limits for being online – nothing after 10.00pm etc
Use Kidswatch or similar to block sites you don't want them on
Use Kidswatch or similar to monitor chat on Facebook – it sends alerts when certain language is used, like swearing, or types of conversations, like grooming.
Do you block the children's Ipods or smart phones from using the home WIFI, and allow them only to use computers with Kidswatch installed? We do.
As a parent – I think we all need to take control, our kids have in my opinion far too much freedom online, and it's allowing bullies to bully and kids to be victims.