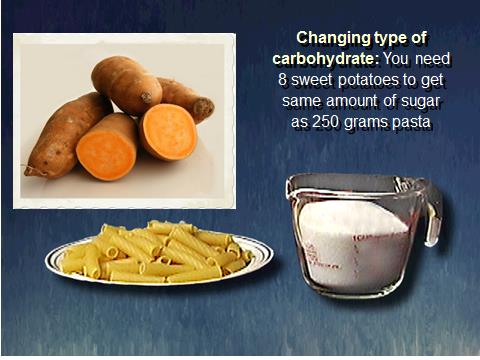 " Here we go again" I sigh.
Paleo seems to be hitting headlines in major publications on a daily basis in New Zealand. Just this month – the article "Carbohydrate addiction is real and it's killing us" in the North & South magazine justified why we all need to go back to eating an ancestral or paleo diet devoid of refined grains and sugars. Go read it – it's an excellent essay. Just two months ago N&S did a series of articles on Paleo "Why cavegirls don't get fat"
And today James Griffin (writer, comedy) mentioned paleo in his New Zealand Herald column. Hunt, kill and be merry, for tomorrow we diet.
This goes nicely with the article also in today's paper on sugar: "Is sugar toxic?"
Where did the notion that the paleo diet is devoid of starch come from?
However the article that got me riled about the whole carb issue (yet again!) is an article by Lani Lopez for Elements Magazine "Me eat now…" where she states the paleo diet instructions are to: "AVOID: 
Dairy, grain and starch, legumes, convenience and processed food, sugars (including artificial sweeteners), alcohol."
Where does this come from? I've never been under the impression we should cut out all starch. Cordain talks about the problems of a high glycemic load diet, and some root vegetables, especially potato as being a problem. He therefore recommends limiting the amount of high GI load carbohydrates for those with type 2 diabetes, dyslipidemia, coronary heart disease, gout, and acne –  but not eliminate. By his recommendations those who need to limit starch would still get 10 – 20 grams per meal. (page 155, The Paleo Answer)
Starch in my opinion should be eaten is as needed and as tolerated.
Starch in my opinion should be is as needed and as tolerated. If you are a CrossFitting athlete, you need starch for workouts, as the primary fuel burnt is glucose. Too many are cutting carbs right down to nothing, and consequently feeling drained and not sleeping well. High intensity exercise plus a very low carb diet will increase cortisol and decrease testosterone according to biochemist Dr Mat Lalonde.
If you are primarily sedentary and diabetic or prediabetic, you would be best eating less starch and eating low GI meals – and importantly – don't eat carbs alone. Eat with a meal containing protein, non starch vegetables, salad with vinegar or lemon juice and fat. All these foods slow down the digestion of the starch and help stabilise blood sugar.
Much of the research done on paleo diets was done on the Kitavan people – who eat a very high starch diet, and are lean, healthy and appear to be free of the diseases affecting Western nations.
The paleo diet is carbohydrate appropriate, whereas the standard Western diet is carbohydrate excessive
So please – I'd like to see an end to the notion that paleo is a no carb/ no starch diet. It is starch or carb agnostic. Carbs as required, and tolerated. By standard American (or Western) diet standards is will be by default lower in carbohydrates. This does not mean is is low carbohydrate, as today's diet is excessive in carbohydrates, it merely brings our diet back to carbohydrates at an appropriate level.
When you cut out grains and sugars, and replace with fruit and starchy carbohydrates you will likely cut your carbs down at least by half. Most people do not need to cut them down consciously any further.
Here is a slide I show in my paleo seminar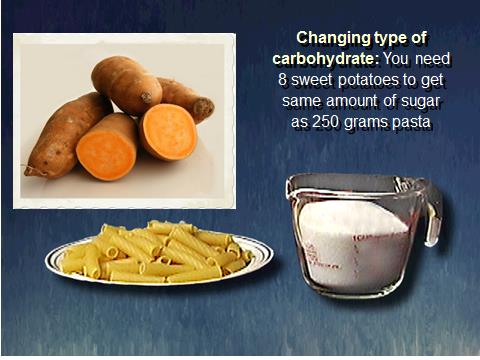 I also recommend you read : Tim Noakes on carbohydrates
Tim Noakes explains how and why many benefit from a low carb, and therefore higher fat diet. However he also states:
"Not for everyone
However those who can metabolise carbohydrates efficiently and who have always been lean despite eating a high carbohydrate diet may not benefit in any way from this eating plan.  I would not advise any athlete who is lean and quite happy with his or her weight and performances to change to this eating plan since it might not make a difference and might even be detrimental."