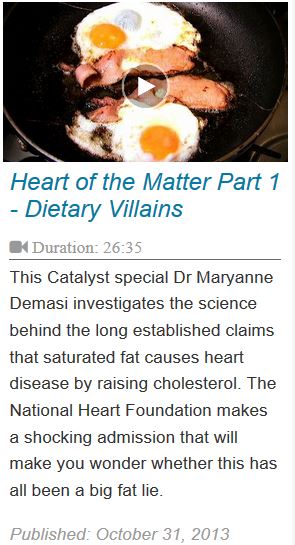 Saturated fat has been vilified for years, and if we want to reduce our cholesterol and therefore our risk of heart disease we should ban it from our diets.
Statins are the biggest selling drug in history – but are they saving lives?
Cardiologists and other medical experts challenge the concept that saturated fat causes heart disease and that statins will save us.
The Cholesterol Myth: Dietary Villains and Cholesterol Drug War. Thursday 24 October 8pm on ABC 1
Is the role of cholesterol in heart disease really one of the biggest myths in the history of medicine?
For the last four decades we've been told that saturated fat clogs our arteries and high cholesterol causes heart disease. It has spawned a multi-billion dollar drug and food industry of "cholesterol free" products promising to lower our cholesterol and decrease our risk of heart disease.
But what if it all isn't true? What if it's never been proven that saturated fat causes heart disease?
And what if the majority of patients taking cholesterol lowering drugs won't benefit from taking these pills?
In a special two part edition of Catalyst, Dr Maryanne Demasi investigates the science behind the claims that saturated fat causes heart disease by raising cholesterol.
Part one and part two- click on image to download MP4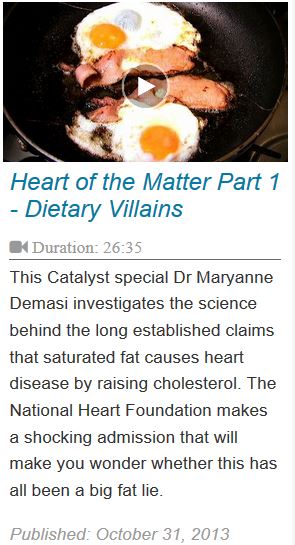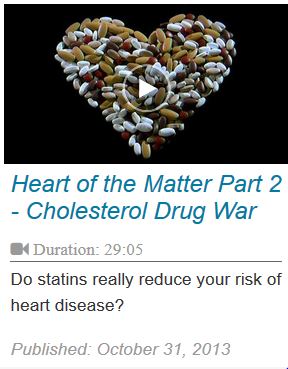 Business Insider article: Good overview or main points programme 1
How Catalyst Effectively Exploded The Cholesterol Myth With These 13 Facts About Fat
A recent Canadian review came to the conclusion that 88.7% of statin use is not aligned with research:
This study analyzes the utilization of statin lipid-lowering drugs in a Canadian province using a population-wide drug prescription database. The utilization pattern is compared to the results of a systematic review of randomized controlled trials on their effectiveness. The study found that 74.7% of individuals prescribed a statin had no reported history of coronary heart disease (CHD). Women without CHD formed 23.1% of statins recipients; 32.9% of individuals filling a statin prescription were age 70 and over. Only 15.3% of men with CHD had been prescribed a statin. Based on the systematic review, 88.7% of the utilization of statins in this Canadian province was not supported by the results of the systematic review. Considering baseline lipid-levels does not substantially alter these findings. This study concludes that statins prescribing practices need to be realigned with research evidence. This implies refocusing utilization away from women and the elderly, towards men with CHD.