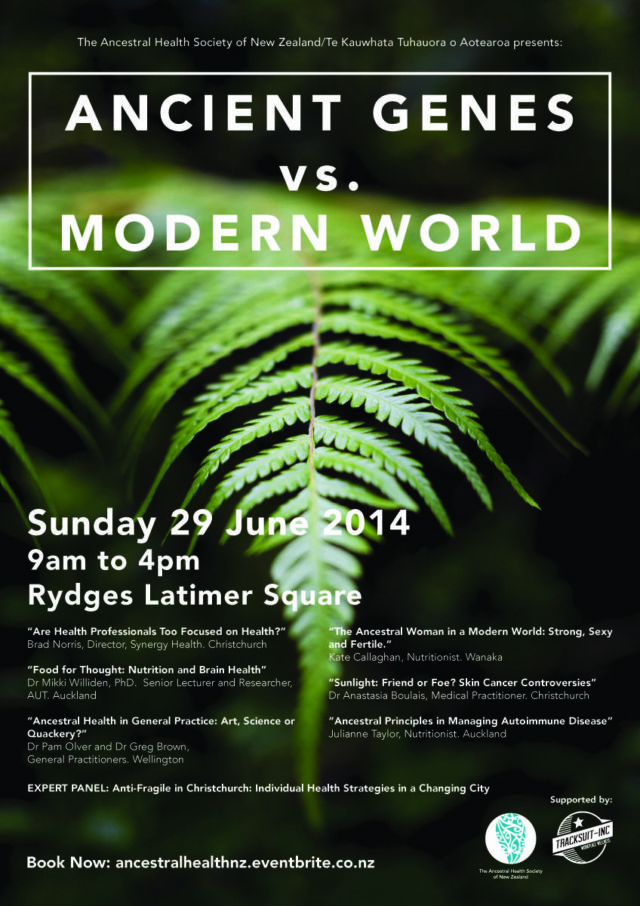 On June 29th in Christchurch the first ever Conference of the newly formed Ancestral Health Society of New Zealand took place.
I can really only reiterate what others have already said – It was awesome. So – do make every effort to get to the next one – you won't be disappointed. October 25th in Wanaka
I learnt something new from every presentation – even though I read a large number of blog posts and clinical studies.
I even learnt some new words / concepts "biophilia" and "dynapenia"
What I don't need to do though is a write up – because fortunately two amazing women have already done wonderful overviews of the day and the talks.
Dr Anastasia Boulais – a veritable super woman, who settled  into a new country, took on a new job, set up the Ancestral Health Society and the conference, while tackling 2 post grad papers at university.  (I on the other hand  got overwhelmed just tackling 2 post grad papers.)
Sara Lake a fellow post grad student in nutrition science at Massey, whose hospitality and company I enjoyed in Christchurch, (thanks Sara, Jason and cats), has covered all the talks over 3 blog posts – a must read if you want a great sense of the conference.
Photos of the day can be found on the AHSNZ Facebook page
Here's one of Jamie Scott delivering his most interesting talk on the under-appreciated role of muscle in human health