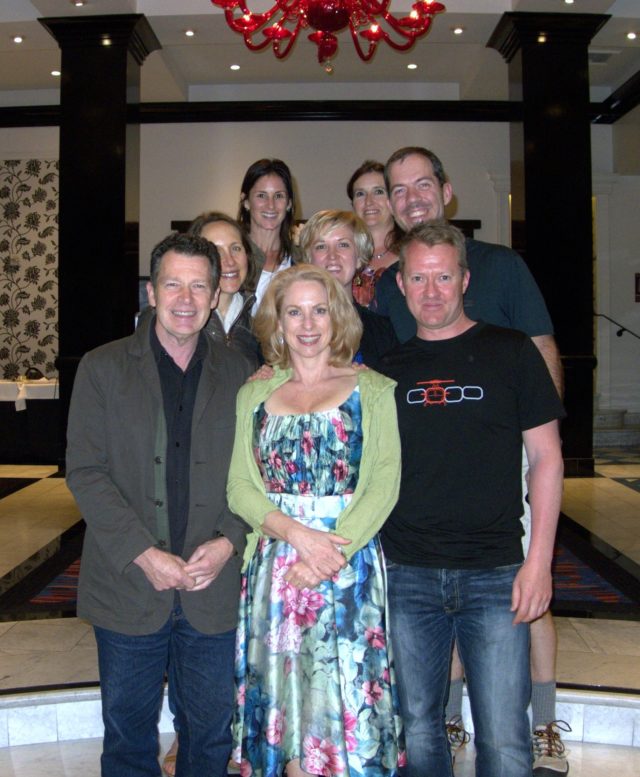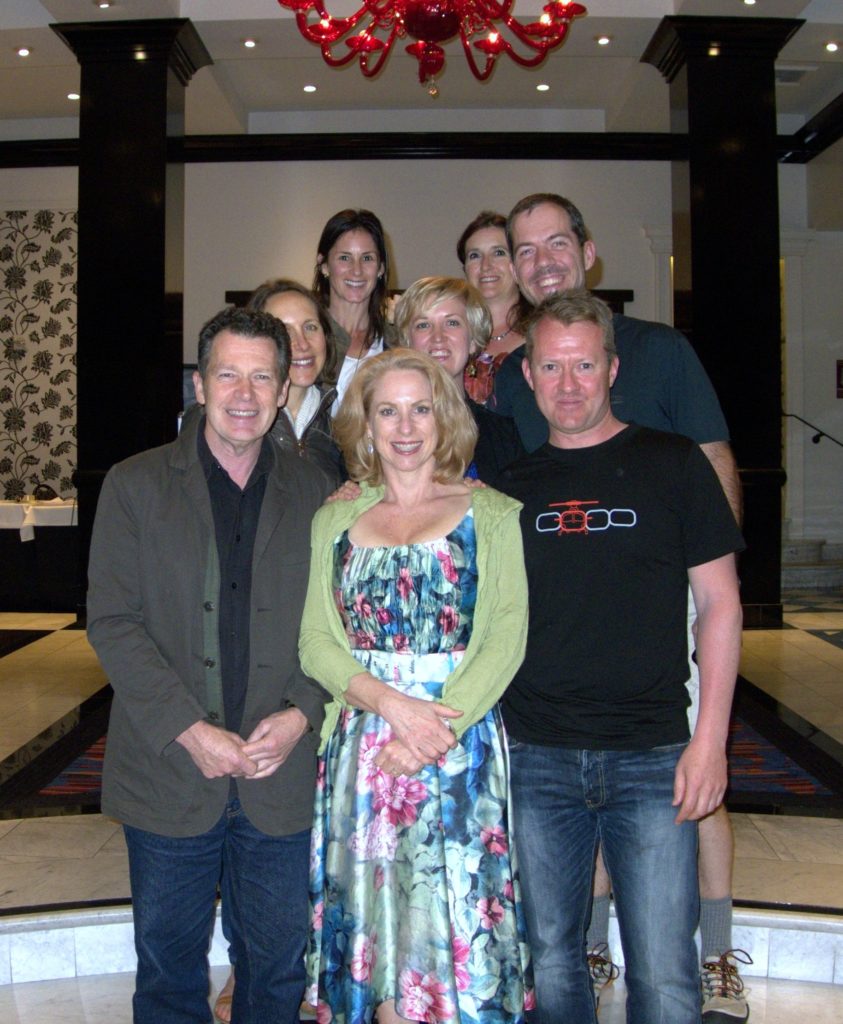 In 2011 my husband and I went to the first ever Ancestral Health Symposium in the USA, and we went again this year. There is nothing like being at this event live, cramming in listening to as many talks as possible, and connecting with people from all over the world – as well as spending time with the Kiwi contingent. (By the way I noticed people outside of NZ are confused about the term Kiwi – it does not refer to the fruit – which we in NZ call kiwifruit, it refers to our native bird – the Kiwi)
Here is a pic of all the Kiwis plus the honorary 'Kiwi' Tim Gerstmar who we had the pleasure of hanging out with over dinners.
In this photo: From top left – Dr Caryn Zinn, Dr Pam Olver, next row is  Dr Mikki Williden, Dr Anastasia Boulais, Dr Tim Gerstmar, and at the bottom hubby Mark, me and Jamie Scott.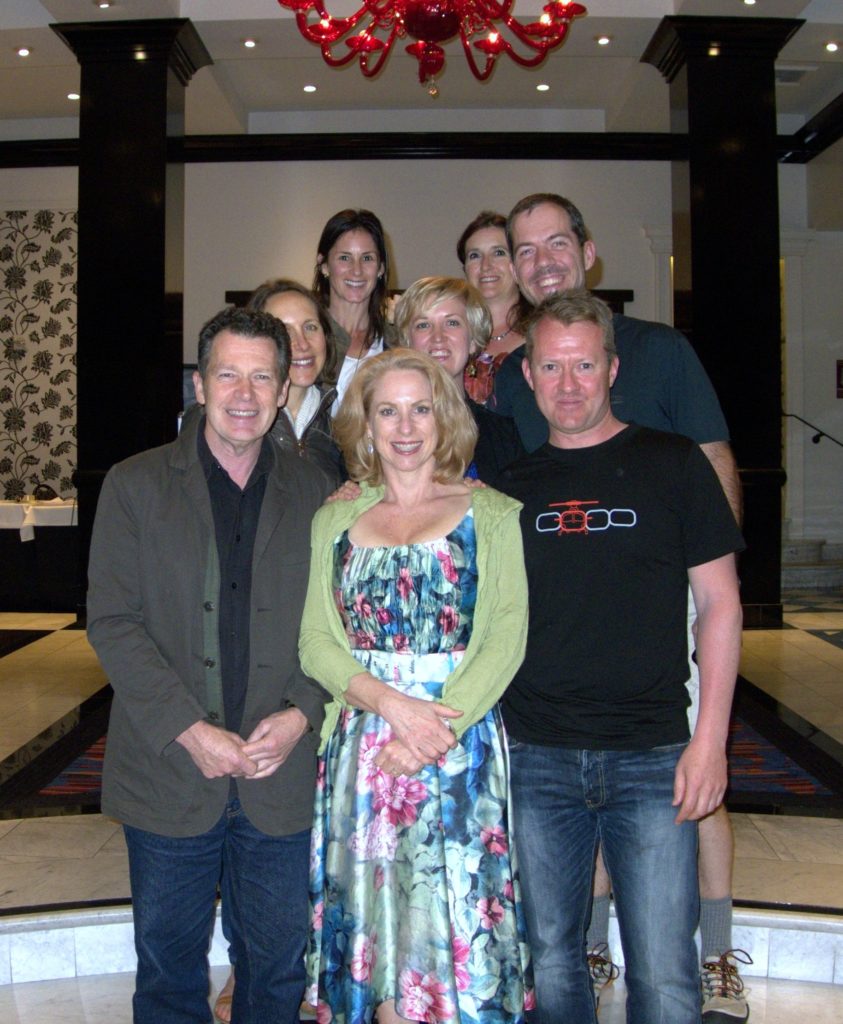 The Symposium was at the Berkeley University Campus, which was beautiful and peaceful. I went to as many talks as I could fit in, and found every one to be interesting and informative, and came away from each delighted that I'd learnt something new.
Most of the talks are now posted on the AHS YouTube Channel. I highly recommend you watch them all if you can, and don't assume that because the topic is familiar to you that there is nothing new in the talk. I was really surprised at how many new facts I learnt. Here a just a few snippets:
Dr Lynda Frassetto Paleolithic Diets and Blood Pressure Control
I knew from my own experience with clients that the paleo diet reduced high blood pressure within weeks: Dr Lynda Frassetto explains possible mechanisms (Dr Frassetto is one of my heroes in the paleo research world and I was lucky enough to chat with her.)
Barbara Natterson-Horowitz, M.D Zoobiquity: Species-Spanning Medicine
Veterinarians and human doctors need to connect more with each other; humans are just another animal, and both humans and captive animals eating unnatural diets suffer many of the same health issues: strokes, heart disease and eating disorders.
Denise Minger: Lessons From the Vegans

Did you know that studies on high carbohydrate, very low fat diets (10 – 15% fat) show they reverse type 2 diabetes and give significant weight loss? Neither did I – if you want to challenge your views that a high fat, low carb diet is the only way to reverse heart disease, diabetes and weight loss – watch this.
Grace Liu, PharmD: Solution to the Identity Crisis of the Ancestral Gut 
Grace – also known as the gut goddess describes the 5 extinctions that have resulted in a cumulative detrimental effect on our gut microbiome. Grace outlines a 7 step programme to reinstate healthy gut bacteria.
Dr Michael Ruscio's talk compliments Grace's talk The Gut; Diet, Flora, Health and Disease
George Diggs, Ph.D: Plant Food Toxins in an Evolutionary Context 

This talk was fascinating. In the paleo world most people give the standard spiel on what to eat and what not to eat and talk about the anti-nutrients in grains and why we shouldn't eat them, often without much understanding of the mechanisms – this is why you should watch this lecture. Dr Diggs explains the main mechanisms by which plants protect themselves against predators: 1. Toxins, 2. Hormone disruptors, 3. Digestibility reducers and 4. Semiochemicals – chemical signals that attract the enemies of your enemies.
And here is a blow for those who love their NorCal Margartitas in the sun: Citrus fruits have toxins that make animals sensitive to light, if you drink enough lime juice and sunbathe – you might end up with a nasty burn: Limes Blamed for Girls' Second-Degree Burns
Kaayla Daniel, Ph.D., CCN Bone Broth and Health: A Look at the Science

Everything you ever wanted to know about bone broth – particularly interesting are the historical studies using bone broth to treat a multitude of health conditions – with great results.
Are you short-sighted (have myopia)? Then watch this talk on how you can reverse it: Myopia: A Modern Yet Reversible Disease — Todd Becker, M.S.
Paul Jaminet, Ph.D. A Theory of Obesity, With Supporting Evidence

Paul Jaminet (who has just become a father :)) brings together a lot of threads and explains a theory of obesity, with the science to back it up.
Also don't miss the fantastic talks by the 3 Kiwis: Dr Mikki Williden Culturally Appropriate LCHF Diet Trial , Dr Caryn Zinn New Zealand Multisporters Following a Ketogenic Diet and Jamie Scott The Underappreciated Role of Muscle in Health and Disease. And of course –  Dr Tim Gerstmar on Methylation: How 1 Carbon Affects Your Brain, Your DNA and Everything (highly entertaining on a very sciency subject)
And there are many more talks – I've yet to watch the rest myself – so head on over to the AHS 2014 YouTube channel and enjoy
https://www.youtube.com/user/AncestryFoundation/videos
And one more thing – did you know that New Zealand now has it's own Ancestral Health Society? The next conference is on October 25th in Wanaka, a simply stunning area of NZ. More information here http://ancestralhealthnz.org/symposium-3/