I put these charts together to show you instantly how carbohydrate dense a food is. If you are cutting down your carbohydrates – as Simon Gault the chef did in the documentary series "Why Are We Fat?" in order to reverse his type 2 diabetes, it makes it far easier to do this if you know how much carbohydrate is in the food you are eating.
To help you to out (these are included in my new nutrition booklet in process) I've put these together so you can see in an instant how much net carbohydrate (carbs minus fibre) and how much fibre (great for your gut bacteria) are in carbohydrate rich foods.
Note – I am not including foods high in fat or protein. I'll do those in other charts.
This first chart is for non-sweet foods, which are typically starch rich, and starches are high in glucose not fructose. You might note – that legumes are high in starch, yes they do have some protein – however the starch content is much higher than the protein content. Quinoa is also mostly carbohydrate.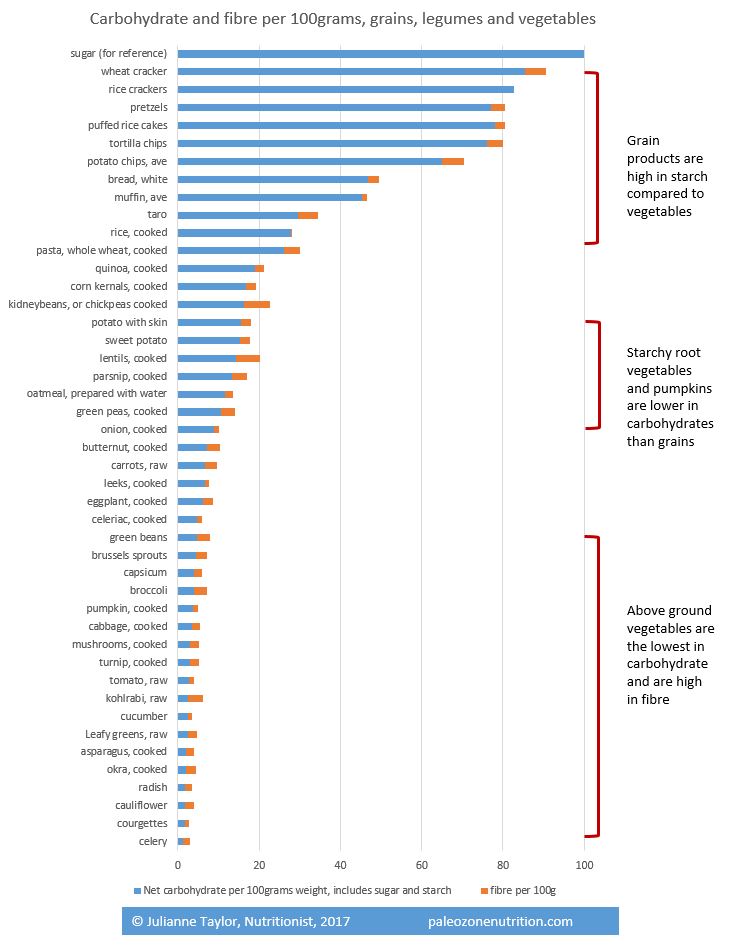 This chart is for sweet foods, the sugar content in processed foods will mainly be dextrose (table or cane sugar, 1/2 glucose and 1/2 fructose). In the USA it is likely to be high fructose corn syrup (also around 1/2 glucose and 1/2 fructose) or a mix of glucose and fructose contained in the food inherently (whole fruit). If you would like to know the breakdown of specific sugars in fruit this is a great resource The paleo diet – fruits and sugars