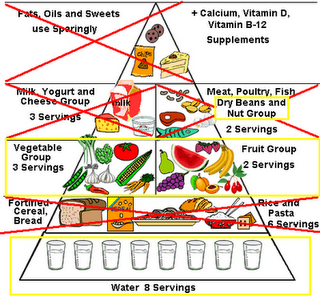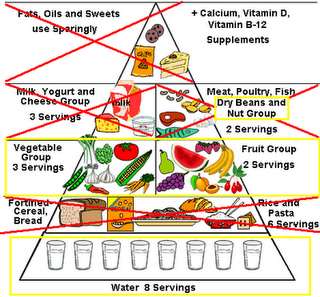 My recent analysis of Harley Johnston's (30 Bananas a day) aka Durianrider's low fat raw vegan diet showed how one person was able to live on a very high fruit diet, and manage to get adequate nutrients (Except of course Vitamin B12 – imperative to supplement if you are vegan to avoid anemia, brain and nerve damage). As I wrote in the analysis, because one person is able to do this – it does not make it a diet that I would recommend. I appears that only the extremely high calorie intake has allowed Harley to get adequate nutrients, added to this some genetic luck. A loose observation is that all those who are able to stay on this type of diet do a large amount of endurance exercise. This uses a large amount of carbohydrate for fuel, maximises insulin sensitivity in the muscles and thus enables the high carbohydrate intake. The high calorie intake is absolutely essential for adequate nutrients.
For me to condone such a diet would be negligent and even downright dangerous.
Firstly no serious scientist would refute that humans evolved as omnivores, and that an omnivorous diet is the best diet for us to thrive. From Loren Cordain: Metabolic Evidence of Human Adaptation to Increased Carnivory
As a nutritionist my primary commitment is to my clients' health. I see no evidence that making a permanent switch from an omnivorous to a vegan diet would improve the health of any client.
In the short term however some people appear to benefit from a change to a raw vegan diet,one of the reasons may be like a whole food or paleo diet, many unhealthy diet components are removed, in particular ultra-processed food. Ultra processed food makes up approximately 60% of a standard western diet and is comprised of:
Highly refined grains
Processed vegetable oils
Sugar
Multiple additives – synthetic flavour, colour, preservatives, and emulsifiers, all of which have no health benefit at best, and damaging effects at worst.
In the long term however, health problems from dietary deficiencies and imbalances inevitably catch up with people. Denise Minger wrote about this in her article Raw Gone Wrong, When the Honeymoon is Over
"…Almost without fail, the beginning of the diet yields a brilliant honeymoon phase—filled with surging energy, renewed vigor, and zest for your lively cuisine.
But somewhere down the line—months for some people, years for others—the wonder starts to wane. Maybe you start feeling like something is inexplicably missing. Maybe your energy takes a dive and noontime naps become the norm. Maybe your weight loss plateaus. Maybe your last dentist visit wasn't so pretty. Maybe those niggly health problems you had prior to raw—aches and pains, lethargy, allergies, arthritis, skin conditions—start resurfacing out of nowhere. Whatever the reason, raw just doesn't seem to be working as well as it did in the beginning. Your enthusiasm diminishes, and in its place comes doubt, discontentment, and a plethora of questions.
In other words, you start seeing raw foods' freaky nose hairs and you begin to wonder: what did I get myself into?
My own raw honeymoon ended around the one-year mark. Intermittent fatigue, dental woes, hair loss, concentration problems, and some not-so-happy blood test results forced me to rethink the dietary regimen I was so tightly clutching. During this time, I started scouting out the counsel and wisdom of other disgruntled rawbies. What I discovered was this "honeymoon end" was a common phenomenon among raw foodists, and that its occurrence usually led to two things:
1.   an expulsion from the raw community for being a dissenter or pot-stirrer for doubting the diet, and
2.   a foray into other dietary regimens, such as paleo, low-carb, cooked vegan, macrobiotic, or ayurvedic.
Contrary to what the testimonial section in books and websites may indicate, raw doesn't always end with Happily Ever After. What worked in the beginning may not work forever, and sometimes you need to tweak things to regain a sense of vitality and health. If you're in the troubling situation of having been raw for a while but feeling that something's off, don't worry—you're in good company..." Read the rest of the post here.
Here are more stories from vegan's themselves about the health problems encountered after the honeymoon period:
Erim Bilgin: Interview with an ex-vegan.
"…About a year and a half into it, I started to get weak, mentally, though this didn't become apparent to me for years. I was extremely susceptible to stress. Anything would get to me, and I had to learn about self-mastery and breathing techniques and all that shit. It's funny, because I was saying I was eating a raw vegan diet because it was "natural", but here I was depending upon all these "unnatural" techniques. It never occurred to me that mental strength should come naturally. I just thought today's world was too hectic.
I would skip school a lot, because just the thought of getting out of bed made me anxious some days. Speaking of the bed, I also had some difficulty sleeping once in a while around my second year of LFRV. Not only was my sleep too light, I also had difficulty falling asleep, since I had to shift my legs all the time. I would later learn that this is a medical condition called Restless Legs Syndrome, a neurological problem. (I'm looking at you, B-12! Why weren't you formed in my gut as promised?)
My mood depended entirely on outside conditions. Talk about ups and downs. Cloudy sky meant bad mood. Cold weather meant bad mood. I became addicted to my mp3 player, because I just didn't have the zest to go through the day without some stimulating rhythm. All this, even though I knew pretty much everything necessary to remain calm and centered. But, like I said, I didn't acknowledge this as a problem with me, I just thought today's world was too harsh.
The problems started to become more physical sometime around the first quarter of 2010. My teeth started getting incredibly sensitive, and there were clear signs of heavy acid erosion. I thought the tips of my teeth were always this transparent and that the darkened spots near my gum line were just stains from all the colorful food I was eating. My gums started to recede, I broke a molar by biting a tiny piece of a hazelnut shell by mistake, and a few months later my dentist would find six cavities in my raw vegan mouth. Jokingly, she told me I had "basically every dental problem that we have a name for". But I was taking better care of my teeth than ever! I even avoided those acidic animal products! You know, the ones that leech calcium from your bones? I wondered how I remained cavity free before when I didn't even brush, let alone floss, let alone brush and floss thrice a day. And clean my tongue…" Read the rest of Erim's Story
Kevin Gianni, Renegade Health in "What diet do you eat now Kevin?"
"…At one point I was taking 6-10 vegan supplements a day to attempt to override my deficiencies – B complex, DHA, Vitamin D, B12, a mineral supplement, protein powder, chlorella, and more.
I also adjusted my diet to add more cooked foods to see if that would change the way I felt as well.
This was over a 2 year period.
When I was introduced to goat's kefir, I resisted greatly.
First, because I hadn't had any dairy in over 8 years.
Second, because I wanted very badly to stay vegan (I did eat honey.)
Third, I had too much vested in vegan as who I was – on the blog, our business, etc.
So there were a LOT of influences keeping me away from animal products.
What it always came back to, even when faced with all these considerations, was that I wasn't feeling great and my blood tests reflected it.
So I had to make a change. After the introduction of goat's kefir and yogurt, I immediately felt an increase of energy, slept better and many issues started to clear up – my acne started to disappear, my knees stopped aching after a run, I gained back weight lost, I was able to retain muscle mass better, I could get out of bed in the morning, etc…." Read the rest of the post here
Tasha, formerly Voracious Vegan: In A Vegan No More
"…When the doctor first told me that I had numerous vitamin and mineral deficiencies, that I was almost anemic, and my B12 was so low she wanted to give me an injection immediately, I refused to believe her. I actually asked her to show me the blood test results because I thought there had to be some sort of mistake. But there was no mistake, it was right there in black and white; deficiencies and abnormalities across the board.
The results explained perfectly why I had been feeling weak and exhausted for more than 6 months. Whereas I had previously lived for working out and even an hour on the elliptical wasn't enough for me, lately doing more than 20 minutes at a leisurely pace caused me to yearn to spend the rest of the day in bed recuperating. When I could I slept till noon, I felt lightheaded when I stood up, I couldn't remember simple words or the names of my friends, and I was freezing cold even in the midst of a sweltering Saudi summer. Of the myriad symptoms I've listed here and the ones I will not be describing publicly, the absolute worst of all was my depression. This awful, lifelong foe I've been battling on and off was sneaking back into my life, painting the edges of my world a sickening black and stealing the joy that I had fought so desperately to regain…." read the rest of her story
And from the UK, this family experience of a raw vegan diet led to serious health problems:
Holly Paige thought her family's food regime would boost their health – but stick-thin legs and rotten teeth made her think again
One morning over breakfast, Holly Paige looked at her daughter and realised things weren't right. Lizzie should have been flourishing. Instead, her cheeks were pinched, she was small for her age, and although she had skinny arms and legs, her belly was big and swollen. When Lizzie smiled, Paige suddenly noticed her upper front teeth were pitted with holes. …Read more
These stories are all too common as Chet Day, ex-vegan, previously of Hallelujah Foundation writes in this article Vegan Diet Dangers:
What are the most commonly reported symptoms from long-term vegans and raw foodists who have been forced to add some animal fat and protein back into their diets to regain or maintain superior health, energy, and well-being?
Below are the symptoms and problems I hear about in mail from long-term vegans and raw foodists on an all-too-regular basis:
inadequate milk production for nursing mothers, as well as retarded physical and mental development in some children who are strictly on a vegan or raw food diet;
slow metabolism leading to a much less robust lifestyle;
a general lack of vitality;
low body temperature (always cold);
a weak, touchy digestive system with a loss of digestive strength (unable to metabolize food quickly, have to be careful what you eat, how much, must practice food combining to be able to digest food, etc.);
food cravings (especially among women);
stalled weight loss because metabolism is too low (predominately in women);
inability to gain weight, resulting in shrunken, cadaverous-looking bodies (predominately in men);
weight gains from overeating on carbohydrates;
amenorrhea (menstrual cycles cease), even in young women;
loss of libido;
hair loss and nail problems;
dental cavities, tooth loss, and gum problems;
joint pain
inability to conceive
And this from vegan dietitian Jack Norris
Mr Norris writes about his own experience on a raw vegan diet that led him to write an article dispelling the myths of the dangers of cooked vegan foods. From the article Raw Food Vegan Diets:
"…From the fall of 1993 until 1995 I ate about 90% of my foods raw. I also read any and every book and article on raw foodism that I could get my hands on. They contained story after story of people curing their heart disease, diabetes, cancer, and other diseases through raw foods.
The diet simply made sense. Since humans are the only animals who cook their food, we'd have to be better off eating a more natural diet of raw foods…wouldn't we?
It didn't go so well. I had low body fat to begin with, and on the raw foods diet my weight dropped from 138 to 128 lbs. As a regular weightlifter, I noticed my strength decline considerably. I got frequent colds (some say this is the body detoxifying; a more likely explanation is that I wasn't eating enough protein to ward of infections). I constantly thought about how much I wanted to eat cooked food. The couple who mentored me were also struggling with the diet.
One day, I had to admit that it wasn't working. I slowly weaned myself back onto cooked foods to curb my cravings. Though I tried to resist, my diet became more cooked all the time. One day in 1997, I decided to follow my cravings and eat as much cooked food as I wanted. Since then I've eaten most of my food cooked and have felt much better.
The experience turned me to science, relying more on published scientific research and much less on popular theories and anecdotal reports. As I read more mainstream nutrition science, it became clear that many of the claims made by raw foodists were not true…."
Before I look at typical nutrient deficiencies, I'm curious as to why at first many people feel so great initially on a raw vegan diet?
One reason could well be the elimination of a plethora of foods that typically cause people problems: dairy, grains – particularly gluten grains, legumes (which includes two common allergens peanuts and soy), processed food including highly processed bakery products and sugar, chemically extracted vegetable oils, and all synthetic additives and preservatives, and even alcohol and caffeine. With respect to gluten alone 30% of the population has a gene that makes them sensitive to it and just cutting this one food item could account for many of the health improvements. These health improvements are also similar to those that people rave about when they switch to a conventional paleo diet, that also removes grains, legumes, dairy, processed foods, and high omega 6 vegetable oils and sugar.
Some nutrient intakes are improved on a raw vegan diet specifically antioxidants: Antioxidant status in long-term adherents to a strict uncooked vegan diet, and improved fecal flora Faecal microbial flora and disease activity in rheumatoid arthritis during a vegan diet
Another reason for some short term improvements could be the switch from a high protein to a low protein diet which starts a process called autophagy. "Protein restriction helps protect against viral and bacterial infections by promoting autophagy, the process of intracellular protein scavenging, digestion, and recycling.  During autophagy, bacteria and viruses, as well as junk human proteins and damaged organelles, are digested.  Autophagy has been strongly linked to longevity [1] and is protective against many diseases." (Paul Jaminet) There is a limit however to how much protein can be scavenged, and continuing a low protein diet will result in decreased muscle mass, and protein deficiency.
As an aside for those paleo folks who constantly eat a high protein diet: cycling protein and having protein fasts to induce autophagy may well be beneficial.
Nutrient deficiencies on a vegan diet
There are a number of nutrient deficiencies and imbalances in raw vegan and vegan diets, that eventually cause a number of health problems, which may not appear until months or occasionally years on the diet.
Chris Masterjohn has written an excellent article on this subject, which draws from numerous clinical studies.Vegetarianism and nutrient deficiencies This article discusses the nutrients that are deficient, their functions and their sources. Here is a list of the nutrients that are deficient:
Vitamin K2
Essential Fatty Acids, especially the elongated forms including Arachidonic Acid (AA), docosahexaenoic acid (DHA), eicosapentaenoic acid (EPA), and dihomo-gammalinolenic acid (DGLA)
Cholesterol
Nutrient imbalances
A thorough outline of vegan diet nutrient deficiencies comes from vegan Registered Dietitian Jack Norris, President of Vegan Outreach who maintains an informative website Vegan Health. A committed vegan, he dispels myths surrounding vegan diets, and provides practical information on deficiencies and supplements required to remain healthy on a vegan diet.
Another problem with raw food diets – plant toxins
This article on raw foodism, includes and interesting section on toxins in some raw plant (and animal) foods: http://www.mahalo.com/raw-foodism/
Avoiding poisoning
As the consumption of raw foods gains popularity, some potentially unsafe foods have reentered the diets of humans. However, the following list includes many foods which are rarely promoted by the educated proponents of raw foodism, especially beans or legumes.
* Buckwheat greens are toxic when raw, particularly if juiced or eaten in large quantities by fair-skinned individuals. The chemical component fagopyrin is known to cause severe photosensitivity and other dermatological complaints.
* Kidney beans, including sprouts, are toxic when raw, due to the chemical phytohaemagglutinin.
* Alfalfa sprouts contain the toxin canavanine.
* Some types of raw cassava or cassava flour can be toxic.
* Raw eggs contain avidin, a vitamin B7 or biotin inhibitor, which can cause "egg white injury". As many as 24 egg whites would have to be eaten to inactivate biotin. Avidin is denatured by heat.
* Raw seeds of the genus Lathyrus (peas), can cause lathyrism.
* Raw Brassica species can contain glucosinolate.
* Several seeds contain poison, such as apricot kernels, which contain the toxin amygdalin. See Seed
* Raw parsnips contain furanocoumarin.
* Raw foods, particularly raw meat, may contain harmful bacteria and their associated bacterial toxins. Other parasites and viruses may also be present, such as Toxoplasma, Trichinella, or rotavirus, which may cause serious foodborne illnesses.
* Raw milk may contain Mycobacterium bovis (which can cause non-pulmonary tuberculosis) and Brucella bacteria that cause undulant fever and spontaneous abortion.
* Raw sweet potato, cabbage, cauliflower, turnips, rutabaga, canola oil, cassava, pinenuts, mustard, millet, soybeans and peanuts contain small amounts of goitrogens which can interfere with iodine metabolism and worsen hypothyroidism.
So why wouldn't I recommend a vegan or raw vegan diet? It is a diet that has multiple nutrient deficiencies, that can only be sorted out with supplements. It consequently carries a high risk of serious health problems. Even this vegan eater and mentor lists the common problems he hears of from vegans. Frederic Patenaude; Vegans speak out on their health problems
When a Vegan of 10 years switches to Paleo eating what results does he see? http://www.sentientdevelopments.com/2011/06/so-i-started-eating-meat-again.html
Chris Masterjohn: My Experience With Vegetarianism — Updated With New Reflections
One woman's story on why and how she transitioned from a raw vegan diet to a paleo diet, and what results she found http://wordsandcoconuts.wordpress.com/2011/11/07/from-raw-veganism-to-liverwurst/
And if you think being a vegan is betterfor the planet – Read this book:
However – If you are a vegan and wish to stay well long term – I highly recommend you read become familiar with deficiencies and how to stop them – here is a great start: Jack Norris R.D.  on Staying healthy on plant based diets
Vegan resources and further information:
Jack Norris, vegan Registered Dietitian http://jacknorrisrd.com/
Vegan Health website http://veganhealth.org/
Ginny Kisch Messina, vegan Registered Dietitian http://www.theveganrd.com/
Denise Minger: Tips for vegans to stay healthy
Beyond Vegetarianism, Site by Tom Billings (long time friend of Jack Norris) contains reports from veterans of vegetarian and raw-food diets, veganism, fruitarianism, and instinctive eating, plus new science from paleolithic diet research and clinical nutrition. http://www.beyondveg.com/index.shtml He has also created a list of peer-reviewed studies and abstracts about raw foods diets. http://www.beyondveg.com/cat/links-out/raw-research.shtml
Vitamin B12 deficiency in mums creates babies who cry more http://www.dailymail.co.uk/health/article-1368036/Why-steak-pregnant-mothers-stop-babies-crying.html?ITO=1490p
Comments and more on B12 deficiency
Don Matesz Crazy Moms and Crying Babies: Brain Damage By Vegan Diet
Jamie Scott Meat, sleeping babies, and full disclosure..
Vegan Essentials supplement store
On why we could never have been raw vegan eaters from Don Matesz The truth about raw vegan diets, A Primal perspective, More Raw truth about raw vegan diets.
An ex-vegan on veganism. By Rhys Southan Let Them Eat Meat
And a interesting series of articles on autophagy and protein cycling diet by Ron Mignery http://knol.google.com/k/knol/Search?q=protein-cycling-diet