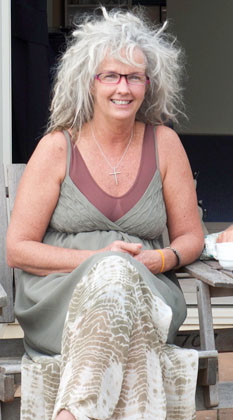 A little while back I saw a comment from Sue, a type 1 diabetic, who had written about her success using low carb paleo to achieve normal blood glucose levels. I love inspiring stories, and as Sue was also a New Zealander (AKA Kiwi) I asked if she would mind sharing her story on my blog.
Type 1 diabetes is an auto-immune disease where the body mistakenly attacks the pancreatic cells that make insulin. Insulin is extremely important, it is the hormone that is sent out of the pancreas in response to rising blood sugar. Insulin is needed to move blood sugar (glucose) into cells, where it is stored and later used for energy. Without insulin, glucose remains in the blood stream, cells starve and glucose levels become toxic to the brain. Insulin must be injected several times a day to move glucose out of the blood stream. Blood glucose must be constantly monitored to ensure it remains as close as possible to normal. Typically normal blood glucose can be difficult to achieve for those with type 1 diabetes and health issues arise from a constantly elevated blood sugar.
Sue has managed to achieve this goal – by using a low carb paleo approach, which is at odds to what she was taught.
Sue's story:
I am a 51 yrs old
On my 40th Birthday I was diagnosed with type 1 diabetes
I am a photographer and at the time a sports photographer I was wondering why I couldn't keep up anymore. I was very tired / nauseated etc. (I was eating low fat, high carb vegetarian diet at the time)
It was quite a shock as I have always led a very sporting life participating in triathlons/competitive swimming etc.
However,  my paternal Grandmother and Father both had Type 1 diabetes ( both died from related diabetes illnesses) so I shouldn't have been surprised.
From day one I was on a quest to eat the best for my condition – of course all the diet that I was given was to do with the traditional dietary pyramid……..7 years later 15 kgs heavier, not happy with my diabetes control -even on the pump (better but not good enough)
I was also prescribed Statins /BP pills…….grrrrrr
Around 3yrs ago I saw the Doco" Fat Head"  Tom Naughton (free viewing for USA people here)
It made so much sense- I started straight away on a low carb diet – I  felt so much better again.
He suggested I also read Dr Bernstein's book for diabetics (The Diabetes Solution) – fantastic- significant improvement.
Then with research I also came across Primal and that lead to Paleo
Each brought improvements to my Blood Glucose control
I have been on a low carb diet coming up 3 years now- and Paleo the last 9 months  (see these before and after photos 9 months ago and now –  being on Paleo made another difference)
My diet now
I had to learn to eat meat (there was no reason other than I didn't enjoy meat, which was why I was a vegetarian)
With Primal and Paleo there are some things I can't eat at all:
Any root vegetable
All fruit (except Avocados)
No grains or legumes
Very limited dairy (with the exception of butter)
Eggs are fine – I need eggs as an alternate protein, it works for me
So all carb is ONLY from meat and green leafy veg, plus I eat a limited amount of nuts and oils (butter)
I walk 40 mins a day
I meditate (this also helps)
I am now 169 cm/ 58 kgs and my body runs on Ketones as its fuel
My current insulin requirements:
I was on 25 units of insulin a day 3 years ago (while eating the recommended diabetic diet)
Now Some days I don't need insulin at all …..my Basal rate  has dropped to .1 units per hr(2.4 units every 24 hrs) and my Bolus average per day is 4 units over 3 meals
I feel the best since I was 25 yrs old
I am hopeful I can sustain this, however Diabetes can be fickle and unpredictable so……………….I am mindful that I may still have to tweak things as I go along
The time is coming I must tell my doctor that I haven't taken any medication except my insulin in 2 1/2 years
My bloods don't look so good to him, but I am not so worried about this (read the literature in primal and Paleo)  they actually are good (Tri – 0.8, HDL 1.8, chol/hdl ratio  4.6, LDL 6.0, September 2011). My Doctor want my Cholesterol down of course –  Gave me statins to take but I haven't as I believe my Lipids overall will have improved with the tuning I have made ( this is where with my research I came across Paleo, sounded a little more suitable as a diabetic than Primal) (re lipids – LDL is high, however Tri and HDL are excellent)
March 2012 -Update blood test: LDL has come down: HbA1c 5.6 (38mmol ), Total Chol 6.7, Tri     1.1,  HDL  1.8, Chol/HDL Ratio 3.7, LDL  4.4
My HbA1c in September was 5.5  (non diabetic) and the Doctor accused me of having lows -NOT !
He does admit that I am his healthiest Diabetic he has…so maybe it time I confessed…..lol
I guess you could say I am  Bernstein/primal /paleo adjusted
I do Drink  A glass of dry Sav Blanc with my evening meal;…………my only wicked way…..lol
I asked Sue a few more questions that I was curious about:
Did you get any professional assistance putting the programme into practice?
No only what I researched on the internet and books ( Gary Taubes/Dr Bernstien/Primal ) then online easy Paleo
Did you have any issues adjusting to low carb and adjusting your insulin etc, ?
I knew to be mindful cutting carbs – I was expecting a decrease in insulin and adjusted accordingly -lots of BG testing though out the day and night
Is your pancreas sending out any insulin that you know of?
Tests said no originally- but I do believe my pancreas has made some recovery in the last year
Also – are you having any side effects from very low carb?
Beginning there was an adjustment – foggy head /headache/tired /leg pain/ it took around 2-3 weeks to stablise now all symptoms all  gone- Now its all GOOD affects  increased energy /general wellbeing/ stable in the mood department/better vision/ less headachy
Before you used low carb / paleo did how much problem did you have maintaining a reasonable blood sugar?
I was always good at controlling BS -well as good as one can get eating carbs – have always been using tight control methods- testing often  and correcting BS as needed on pump and continuous glucose monitor – don't use the monitor anymore my sugars are too low
I have not been over 6  for 2 months or under 4.2 in 10 months
Did you have hypos (low blood sugar – hypoglycemia) then?
I can count on 2 hands over a 10 year period how many hypos- never serious enough to be hospitalized- always been able to self correct though the haze (needed help once from partner to open glucose bottle…lol….)
Do you ever have hypos now? If so when?
No – but then I am aware on Paleo I could under such tight control -so If I feel anything out of sorts I test -so far so good.
Is Sue the first person to get great results on a low carb diet? No, there are many examples. Robb Wolf has some must read stories on his blog:
Seans Story, Paleo, type 1 diabetes and the endurance athlete
Type 1 diabetes: the numbers don't lie
"It's become a way of life"; Controlling type 1 diabetes with paleo
Type 1 diabetes: Update and progress
Type 1 diabetes – an autoimmune disease
Auto-immune diseases respond particularly well to the paleo diet. This is because there is a link between gut damage, difficult to digest proteins crossing into the blood stream via gaps between intestinal cells, and the ensuing reaction to those proteins, that can be similar to our own body's tissue. It looks like cutting out gluten and casein could decrease the auto-immune attack in type 1 diabetes. (links to clinical studies)
Type 1 diabetes: the gut connection, by Robb Wolf
And in case you missed it: my earlier post : "Why I Hate Nutritionists" (by a type 1 diabetic who failed to control blood sugar following diabetes nutritionist advice)
Low carbohydrate diet to manage diabetes