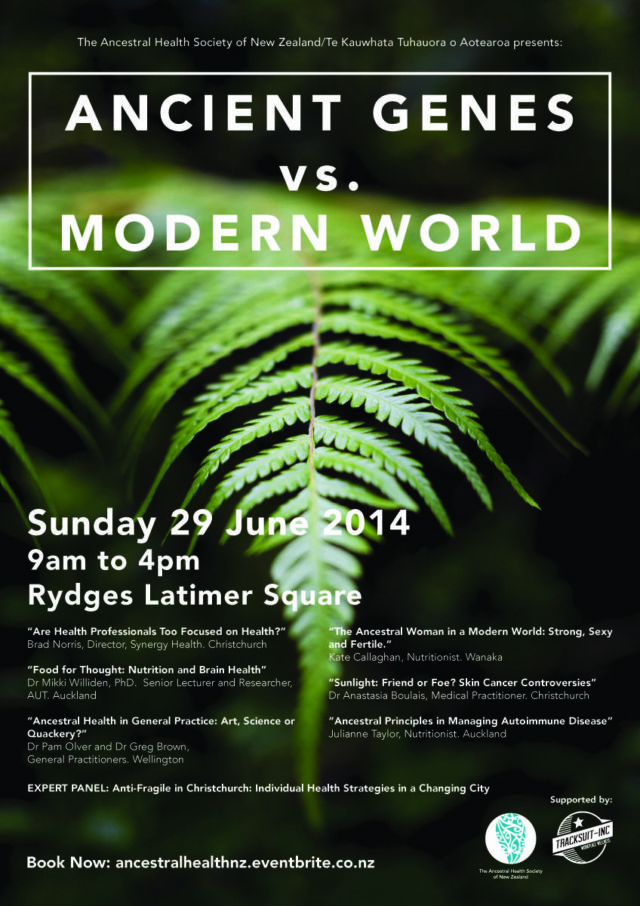 The newly formed Ancestral Health Society of NZ is having its very first day long conference in Christchurch on the 29th June
New Zealand has a growing number of health professionals who use evidence based ancestral health principals with their clients, often with extraordinary results.
The Ancestral Health Society was formed to bring together health professionals, researchers and other passionate people who subscribe to ancestral health and nutrition principals, in order to foster interdisciplinary collaboration.
The very first conference is taking place in Christchurch, home of Jamie Scott (nutritionist), and Dr Anastasia Boulais, who formed the society.
There is a fantastic line-up of speakers, with some of the top health professionals in the country presenting, including Dr Mikki Williden (AUT lecturer and researcher) and Jamie Scott, both of whom will be presenting at the 2014 Ancestral Health Symposium in San Francisco later this year, also Dr Anastasia Boulais whose presentation on sunlight remains one of the most viewed presentations from the 2013 Ancestral Health Symposium in Atlanta.
I'll be there also presenting on an ancestral diet for auto-immune disease, an area that I am passionate about. Paleo eating has been instrumental in helping me keep healthy and symptom free despite having auto-immune issues (joints and thyroid). It is an area I am researching for my post graduate study.
Speakers and Topics:
"Are Health Professionals Too Focused on Health?"
Brad Norris, Director, Synergy Health. Christchurch
"Food for Thought: Nutrition and Brain Health"
Dr Mikki Williden, PhD.  Senior Lecturer and Researcher, AUT. Auckland
"Ancestral Health in General Practice: Art, Science or Quackery?"
Dr Pam Olver and Dr Greg Brown, General Practitioners. Wellington
"The Ancestral Woman in a Modern World: Strong, Sexy and Fertile."
Kate Callaghan, Nutritionist. Wanaka
"I See Weak People: The Under-Appreciated Role of Muscle in Health and Disease"
Jamie Scott, Health Researcher, Synergy Health. Christchurch
"Sunlight: Friend or Foe? Skin Cancer Controversies"
Dr Anastasia Boulais, Medical Practitioner. Christchurch
"Stress in the Modern World"
Aaron Callaghan, Peak Performance Coach. Wanaka
"Urban Design and Health: The Spaces in Between"
James Murphy, Nutritionist, Synergy Health. Christchurch
"Ancestral Principles in Managing Autoimmune Disease"
Julianne Taylor, Nutritionist. Auckland
EXPERT PANEL: Anti-Fragile in Christchurch: Individual Health Strategies in a Changing City