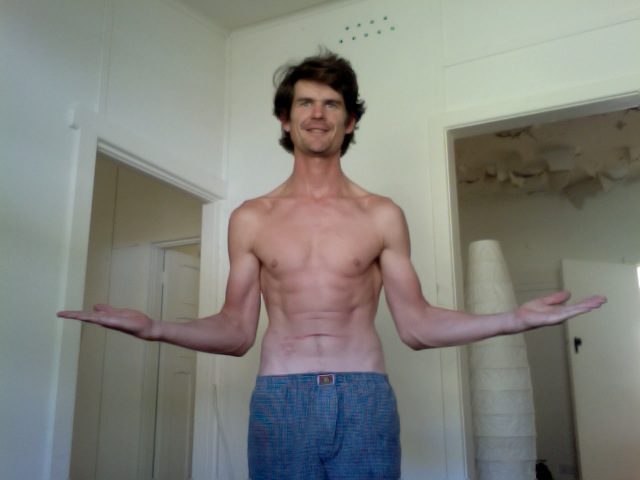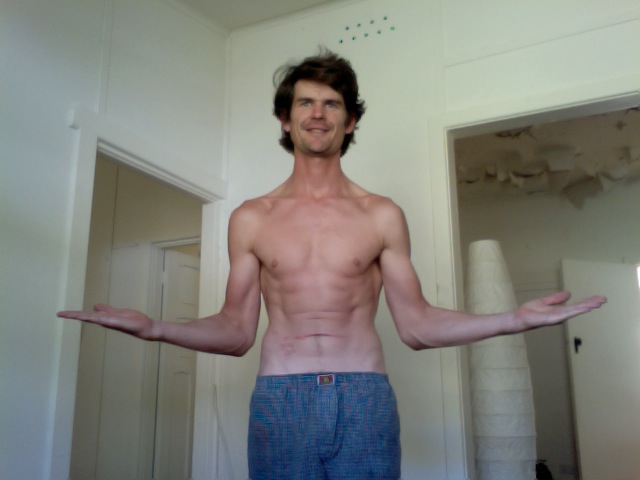 Harley Johnstone AKA Durianrider. A nutritional analysis of his low fat raw vegan diet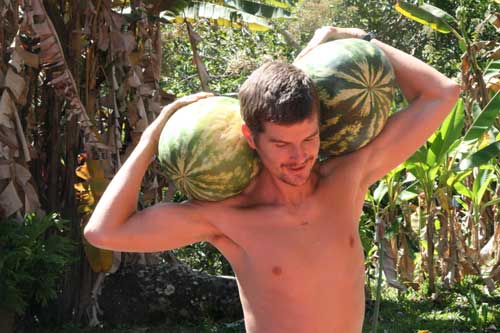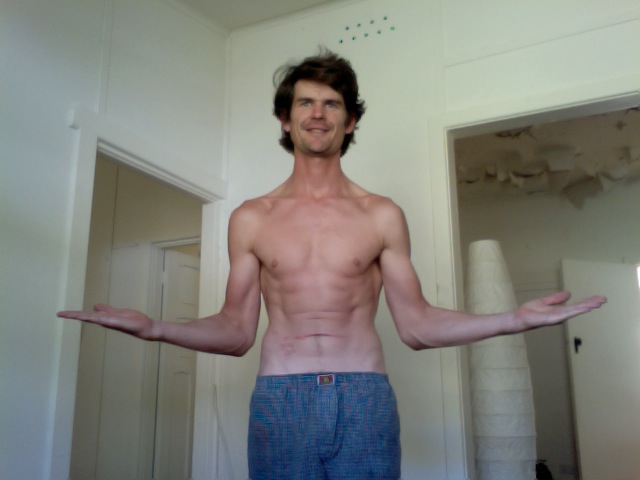 Harley Johnstone, who calls himself Durianrider, eats a low fat, raw vegan diet, primarily comprised of ripe fruit. He has as a blog 30 Bananas a day and an avid bunch of followers. He has an attractive girlfriend, a "fruititionist" known as Freelee. Durianrider likes attacking meat-eaters and recently posted this video pointing out all the shortfalls (as he sees them) of Paleo people, such as Loren Cordain, Mark Sisson, Sean Croxton, and their diets: Low carb/primal/paleo/WAPF diet gurus: why they get fat eventually!
Of course, who in the paleo world could resist a retort? If you've watched the video, follow it up by reading Richard Nikoley's "Vegan Lies and their Stick Figure People" and from Sean Croxton, Underground Wellness"When Vegans Attack!"
My post is not an another attack on the his video filled with flawed logic, and cherry picked photos, I'll leave that to others. What piqued my attention as a nutritionist was how he stays seemingly healthy on such a restricted diet. A few facts:
Harley is 33 years old and was born on my birthday (I can't believe we share the same birthday!)
Harley is an elite endurance cyclist, who says he can ride for mega distances purely on fruit and water. He eats from 3000 -7-8-9000 calories a day, and trains from 30 mins to 23.5 hours a day for example when training for a 24hr solo mountain bike race. He eats mostly fruit and some raw vegetables, a little nuts and seeds. He is famous for promoting the consumption of 30 + bananas a day.
He is lean (well certainly skinny) he is 6′ (183cm) tall and weighs just 65kg (143lbs), giving him a BMI of just 19. What this does give him as a cyclist is a very low weight to height ratio, an advantage if you are a long distance cyclist or marathon runner.
He subscribes to the nutrition theories of Dr Doug Graham and eats a ratio by calories of 80:10:10, carbs:fat:protein. Dr Graham's also advocates sunshine for Vitamin D, lots of exercise, sleep and a 100% raw food vegan diet comprised of organic fruit and vegetables, raw nuts and seeds.
So why does Harley eat a raw vegan mainly fruit diet? Here is what he says in a profile on Food'n'Sport blog:
Harley Johnstone spent his first 24 years battling up-and-down energy levels and a host of maladies including chronic fatigue, asthma, Crohn's disease, hypoglycemia, mild arthritis, sleep disorders, depression, drug addiction, alcohol abuse, anorexia, acne, and more.
A raw vegan diet made him well.
Do these symptoms ring a bell? How about gluten sensitivity? Auto-immune disease? I see people with the same host of symptoms responding to a grain / legume and dairy free diet. It is not surprising a raw vegan diet cleared these problems up – it is essentially a raw paleo diet minus the animal products. i.e. you cannot eat grains or legumes, as they can't be eaten raw and of course it is dairy free.
(One can only imagine where he might be now if he had trialed a paleo diet which most likely have cured his ills.)

Harley says he is healthy, he has blood results that most people would envy: Shown in this video of blood tests January 2010. how are my blood tests after 8 years vegan and 4 years 100% raw vegan? and this post: Raw vegan blood tests and durian eating competition (May 21, 2010) For example his B12 is 1430 (but he admits to regular B12 injections, due he says to lack of intrinsic factor) Iron 149 g/l and ferritin 200 are in ideal ranges. His cholesterol is good and his Triglycerides just 0.6mmol/l, and his blood sugar 3.4 mmol/l. His sodium is just under ideal at 134mmol/l. His vitamin E and A were is ideal ranges. His Urate was normal. His only abnormal test was Urea which was low at 1.5mmol/l . (Ideal range 2.7 – 8.0) The liver produces urea as a waste product from the digestion of protein. From Lab tests "Very low-protein diets can cause abnormally low urea".
I'm looking for answers to a few questions:
What does this guy actually eat in a day and how much?
He scoffs at supplements, of any type. Why does he need B12 injections?
What if I put a day's worth of food into a nutritional analysis, what would I find out?
Eating this type of radical diet, for several years, and seemingly staying healthy, and able to do a vast amount of exercise. I wondered – does Harley's diet show any nutrient deficiencies? I assumed many, especially Vitamin B12 which is usually non-existent in vegan diets. (He has B 12 injections after all) What about fatty acids? Omega 3? Essential amino acids from protein?
Fortunately it is fairly easy to find out about what Harley says he consumes. I found this video on You Tube.In this Video he describes a typical days eating:
how much fruit does a fit and healthy raw vegan eat in a day?
He describes his intake on this particular day:
1 watermelon 20lb
1/2 head of celery
3000 calories of bananas – a box full
sultanas approx 1/2 cup
citrus – oranges, 15 lbs
He states that it is important to eat a lot of calories or you won't get the protein you need, in fact on 30 Bananas a day "have you eaten 3000 calories today?" is prominently displayed.
I put his daily eating into "FoodWorks" and Australian / New Zealand food analysis tool. So here is the result:
NRVs based on: Male, 32years, 65kg, 183cm, Very heavy Activity

Avg/Day                      EAR                   EAR(%)            Alerts
Food Weight (g)                          18428
Energy (kJ)                                  28663    (6872 Kcal)
Protein (g)                                    94,                44   (EAR)                212% (%EAR)
Total fat (g)                                  38
– Saturated fat (g)                        7
– Polyunsaturated fat (g)            6 (1.3 omega 3, 4.7g omega 6, cron-o-meter)
– Monounsaturated fat (g)          3
Cholesterol (mg)                          0
Carbohydrate (g)                        1558
Sugars (g)                                     1497
– Glucose (g)                                 453
– Fructose (g)                               376
– Sucrose (g)                                 668
– Lactose (g)                                  0
– Maltose (g)                                  0
Starch (g)                                       61
Water (g)                                       16561
Alcohol (g)                                       0
Fibre-Englest (g)                          92
Thiamin (mg)                                3.54                1.00 (EAR)            354%(%EAR)
Riboflavin (mg)                             4.98                 1.10 (EAR)            452% (%EAR)
Niacin (mg)                                    52.71
Niacin equivalents (mg)               72.47                   12.00 (EAR)         604% (%EAR)
Vitamin C (mg)                             1491.03                30.00(EAR)          4970%(%EAR)
Vitamin D (ug)                              0.00 <AI (not an issue if you get enough sun)
Vitamin E (mg)                            19.64
Vitamin B12 (ug)                         0.00                       2.00 (EAR)        0% (%EAR)<EAR, <RDI
Total folate (ug)                           658.09                   320.00 (EAR)      206%
Total vitamin A equivalents (ug) 957.78,                625.00 (EAR)     153% (%EAR)<SDT
Retinol (ug) 0.00
Beta carotene equivalents (ug) 5927.97
Sodium (mg)                              728.81
Potassium (mg)                         27262.33
Magnesium (mg)                       2561.81,                   350.00 (EAR)             732% (%EAR)
Calcium (mg)                             1225.23,                    840.00 (EAR)             146% (%EAR)
Phosphorus (mg)                      2083.22,                    580.00 (EAR)              359% (%EAR)
Iron (mg)                                   42.97,                         6.00 (EAR)                  716% (%EAR)
Zinc (mg)                                   26.49,                        12.00 (EAR)                   221% (%EAR)
Manganese (ug)                        10133.16
Copper (mg)                              7.20
Selenium (ug)                            61.34,                          60.00 (EAR)                102% (%EAR)
Kj from protein (%)                  6
Kj from fat (%)                         5
Kj from carbohydrate (%)      87
Kj from alcohol (%)                  0
Kj from others (%)                   2
Fat as mono (%)                       20
Fat as poly (%)                         39
Fat as saturated (%)               41
Essential Amino Acids analysis (using Cron-O-Meter). WHO recommended daily amounts for essential amino acids in adult humans in brackets, for 70kg man.
ALA 3.0g
ARG 6.4g
ASP 9.4g
CYS 0.6g
GLU 13.0g
GLY 2.4g
HIS (Ess) 3.7g
HYP 0g
ILE (Ess) 2.4g (1.4g)
LEU (Ess) 4.2g (2.7g)
LYS (Ess) 5.5g (2.1g)
MET (Ess) 0.8g (1.05g)
PHE (Ess) 3.5g (1.75g)
PRO 4.9g
SER 3.0g
THR (Ess) 2.7g (1.05g)
TRP (Ess) 0.9g (0.28g)
TYR 1.1g
VAL (Ess) 3.2g (1.82)
For the complete nutritional analysis see this PDF – it will show you in which foods the nutrients are found: Dietary Analysis Harley Johnstone aka Durianrider
It was a surprise to me that all essential micro-nutrients including iron, apart from pre-formed Vitamin A (retinol) and Vitamin B12 (both zero!) are present in his diet in good amounts. As his blood vitamin A is fine, I assume his body absorbs and transforms the beta-carotene to Vitamin A from his diet adequately. More on this subject from Don Matesz.
What about the Vitamin B12? In 2007 he was featured in an article in 'Health and Wellbeing' titled "Meat Versus a Vegetarian Diet" where he and a couple of meat eating athletes had blood tests to show up any health problems: Harley's blood tests were normal apart from his B12 which was just 78pmol/l, the lowest the nutritionist had ever seen. Normal range is from 145 to 637. Not at all surprising as B12 is non-existent in his diet. Since then Harley has had regular B12, but justifies it – not as a dietary deficiency but a result of his previous health problems and athletic requirements.
He writes: "one of my doctor mates said that with my history of celiacs, drug abuse, chrons, hypothyroid and extreme cycling pursuits that intramuscular b12 shots would be a great idea. i did some more personal study on the matter like talking to tour de france sports doctors from various teams, googling and reading that book 'could it be b12?' and i decided to get a few jabs like lance armstrong and all the olympic athletes i know do. dont notice any objective difference in my feelings though. i felt amazing before, during and after a course of b12 intramuscular injections last november. imho b12 is the only supp i can see worth supplementing for people with a history of gastric, anorexic, surgical, thryroid, celiac, drug abuse issues etc."
A convenient explanation, and quite possible. Auto-immune disease like those that attack the parietal cells in the stomach is plausible given he has Chron's, another auto-immune gut disease. But lets face it – Harley, your nutritional analysis shows you have ZERO B12 in your diet – that's quite possibly why you need the B12 shots. Harley's point of view comes from Dr Graham who disputes that vegans can't get B12 in their diets – he says the only reason vegans don't get enough B12 it is because they lack intrinsic factor, and they can in fact get bacteria derived B12 from unwashed organic vegetables:
"We get redundant exposure to vitamin B12, which is produced by bacteria, on the surfaces of almost all of the garden-fresh organic fruits and vegetables we consume. However, a great many us (including a proportionally equal number of meat eaters) experience deficiencies as a result of a reduced ability to absorb this valuable nutrient. Intrinsic factor, produced by the parietal cells of the stomach, is necessary for the absorption of B12 in the intestines. If you are not producing a sufficient quantity of intrinsic factor, you will eventually become deficient in B12, which is a common cause of B12 deficiency. There are many reasons for producing or absorbing insufficient intrinsic factor. A few of the most common are death of the cells that produce intrinsic factor (sometimes caused by specific antibodies), stomach cancer, ulcers, specific diseases of the small intestine, fish tapeworm, stomach surgery, and bowel surgery."
What about the calories and macro-nutrients, carbohydrate, protein and fat?
First as I've highlighted, Harley's diet contains a massive number of calories, however due to his heavy exercise load, and relying totally on carbs for fuel he burns through a lot. It is probably just as well he burns so much fuel because he relies on large amounts of calories to provide some of his essential nutrients. If he did little exercise he would be eating far less and he would simply not be able get some essential nutrients. Indeed doing a lot of exercise and eating a lot of calories is necessary to the success of this diet as Dr Graham explains:
Let's compare a hypothetical set of identical twins who eat identical foods. One is completely sedentary, a lover of music and the arts. The other is quite athletic, enjoying triathlon and weight training. The first meets her calorie requirements, and holds her weight, eating 1,800 calories per day. The latter, being more active, does the same by consuming 3,600 calories per day. Obviously, if they are eating the same foods, the athletic twin consumes double the calories, and twice the nutrients, of her sister.
The greater quantity of food makes it far easier for her to get enough of key nutrients, which can be difficult to consume in sufficient quantities. When it comes to excellent nutrition, being physically active is an essential ingredient. Not only do we eat more food when we are active, compared to when we are sedentary, but physical activity also enhances our digestion, and our ability to uptake and utilize the nutrients we consume. And the nutritional benefits of being fit do not end there. Muscles use more fuel than most other tissues, even when they are at rest. This means that a well-muscled person will require more fuel than an equally active but under-muscled person, hence taking in more nutrients of all types.
How come Harley needs to eat almost double the calories required for his needs? This seems an incredible waste of food resources. He also has a very high fibre intake. Looks like he might spend half the day on the toilet. Don Matesz has an excellent article explaining this:
Briefly, both of the apes closest to humans by genetic constitution (about 98% identical), chimps and gorillas, are hindgut fermenters.  In chimps and gorillas, the hindgut, or colon, comprises about 52 percent of the total gut volume.  It houses microbes that ferment fiber, converting it to fatty acids that supply up to 65% of the animal's energy requirements.  In contrast, in humans the hindgut comprises only about 17 percent of total gut volume, and has relatively small microbial population.  At most, microbial fermentation in the hindgut can provide about 10% of human energy requirements.
…it appears that caloric absorption from a completely raw food vegan diet may be as low as 46%.  Given the data I showed above, this means that I would have to eat more than 20 pounds of raw vegetation daily to absorb enough calories to maintain my current body mass and activity levels.
Eating would be a full time job.  Given a 16 hour waking period, I would have to eat 1.25 pounds of food every waking hour to meet my energy needs.   I'd probably spend a good chunk of the time I wasn't eating sitting on the toilet excreting all the undigested carbage.  My life would consist largely of eating and crapping, just like other primates.
I wonder how much time Harley does spend on the toilet?

Protein. Harley's diet contains just enough essential amino acids. However his low blood Urea indicates he is probably not getting enough for the amount of exercise he does. An athlete needs more protein than sedentary, 1.5 grams per kilo body weight, at 65 kilos 98 grams day is required. Harley eats the bare minimum. (A day where he eats nuts and seeds would show a higher protein intake)
Carbohydrates. Harley clearly eats a lot of carbs, but mainly in the form of sugars including a massive amount of fructose. Fructose consumption is linked with metabolic problems as it is metabolised by the liver. Here is the presentation by Robert H. Lustig, MD, UCSF Professor of Pediatrics in the Division of Endocrinology, "Sugar the Bitter Truth" The only reason he is probably saved from metabolic issues is the enormous amount of exercise he does. Update – HT Jamie: This study Fructose, exercise, and health points to exercise as being the key protector :
"Although additional research is required to clarify the possible health-related implications of long-term intake of large amounts of dietary fructose among athletes, regular exercise training and consequent high daily energy expenditure may protect athletes from the negative metabolic responses associated with chronically high dietary fructose intake."
Essential fatty acids. Harley has a low intake of fats (again it would be higher had he eaten seeds and nuts this day) His omega 3 intake is just sufficient, however he only consumes short chain omega 3 which is poorly converted to long chain EPA and DHA essential for brain and nerve cell function. A test not done – omega 3 in red cell membranes, would probably show a deficiency.
What might you be missing on a raw vegan diet?
Besides long chain Omega 3 fatty acids, pre-formed Vitamin A and Vitamin B12 what other nutrients important for health might a vegan be missing out on?
Important nutrients only found in animal products

Creatine, necessary amongst other things for cognitive function: http://www.ncbi.nlm.nih.gov/pubmed/21118604
Carnosine: This from That Paleo Guy. The Latest Uh-Oh for Vegetarians and Vegans: Carnosine
Choline: A key component on cell membranes. It also protects against fatty liver disease.
Time will tell. Currently Harley says he thrives on a low fat, raw vegan diet. Is he suffering problems for example reduced libido that cause other vegans to add in animal products. What happens as he gets older? Will the borderline protein consumption and lack of omega 3 catch up with him? What about if he no longer exercises as much and needs to reduce his calories – will he suffer deficiencies? And the huge glucose and fructose consumption, how will that affect him long term? Diabetes? Heart disease? Fatty liver?
Or perhaps he too will find he cannot sustain a low fat, raw vegan diet like Erim Bligin :Interview With an Ex-Vegan: Erim Bilgin
And there are others who have had serious health issues, read my next article: Health problems of raw vegan diets
And for those who are interested in a longitudinal look at one man's (Tom Billings) experience through a range of raw vegan / vegetarian diets – this article is well worth the read: 30 years of transitions:  from fruitarian to living foods to lacto-vegetarian
Also: 1 year out – quitting veganism, Benjamin Palmer