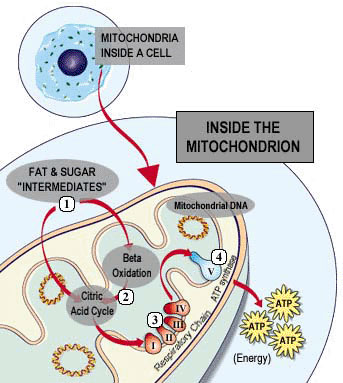 I've just finished reading "Minding My Mitochondria: How I overcame secondary progressive multiple sclerosis" By Terry Wahls, MD
If you haven't already see the viral video of Dr Wahls talking about her reversal of Multiple Sclerosis, you must, it is inspiring.
As a result of watching her talk I couldn't wait to read her book to get more detail on her diet and other therapies that she used to succesfully reverse her disease.
Dr Terry Wahls is a medical doctor who was diagnosed with relapsing-remitting multiple sclerosis in 2000. By 2003 it was reclassified as secondary progressive MS. This typically responds poorly to treatment. Dr Wahls had access to the very best care and drug treatments available, and continued to deteriorate. She was told that any function lost as the disease progressed would never return.
By 2003 Dr Wahls needed a cane to walk and shortly after needed a wheelchair most of the time. At this point she started researching why her body was failing and what she could do about it.
She distinguished seven factors and their inteactions that are likely play a role in the development of MS:
1. DNA (Your genetic inheritance)
2. Infections
3. Toxin exposures (eaten, inhaled or absorbed through the skin)
4. Micronutritent intake
5. Hormonal balance
6. Allergies or sensitisation to food
7. Stress level (physical, psychological, and spiritual)
Of these only our DNA cannot be changed, and prior impact of infections may cause ongoing issues, however Dr Wahls looked at how she could impact all the other factors.
It is interesting how we put so much weight on DNA when as Dr Wahls noted – if you get the same seed and plant one in a nutrient rich soil and one in nutrient depleted, you get 2 completely different plants. We must put more weight on the nutrient content of our diet to support maximum health.
Dr Wahls researched what our diet might need for maximum support of both our mitochondria and brain cells, and what food we would need to eat to get those nutrients.
Looking after your mitochondria
Mitochondria are the tiny organelles inside our cells.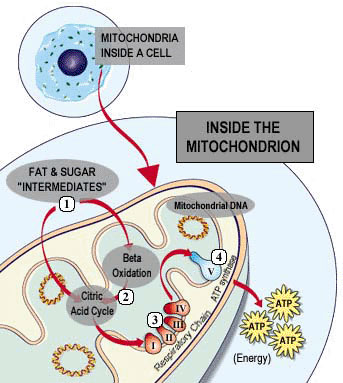 Numerous functions happen here – one of the main is producing adenosine tri-phosphate (ATP) from the food we eat primarily fats and sugars. ATP is the energy unit that our body runs on, it drives the creation of new components like proteins and anti-bodies. It provides energy for all the cells in our body. Some cells have a high concentration of mitochondria because they require a lot of energy. These cells are the brain, retina, heart, tongue, liver and then muscles.
In order to convert glucose into ATP the mitochondria require many other substances  to work as catalysts or co-factors to facilitate reactions in each step of the conversion process, for example vitamins riboflavin (B2), niacinamide (B3), and the mineral magnesium. Co-Q10 is required in the electron transfer chain. Antioxidants must be present to stabilise the reaction by-products (free radicals) otherwise they damage cellular tissue.
Where do we get these nutrients? From our food. You can imagine that if we have a nutrient deplete diet, our mitochondria simply cannot process glucose properly and the free radical by-products will cause ongoing damage to cells and proteins, causing ill health,  accelerating the aging process, increasing the risk of cancers, auto-immune disease and other degenerative diseases.
The richest sources of anti-oxidants come from richly coloured fruit and vegetables. Different colours represent different types of anti-oxidants. The cabbage family are rich in B vitamins, needed to properly convert glucose to ATP.
Looking after your brain and nerve cells
We have around 1 billion brain cells. Brain cells require a lot of ATP for energy, and hense they contain many mitochondrion.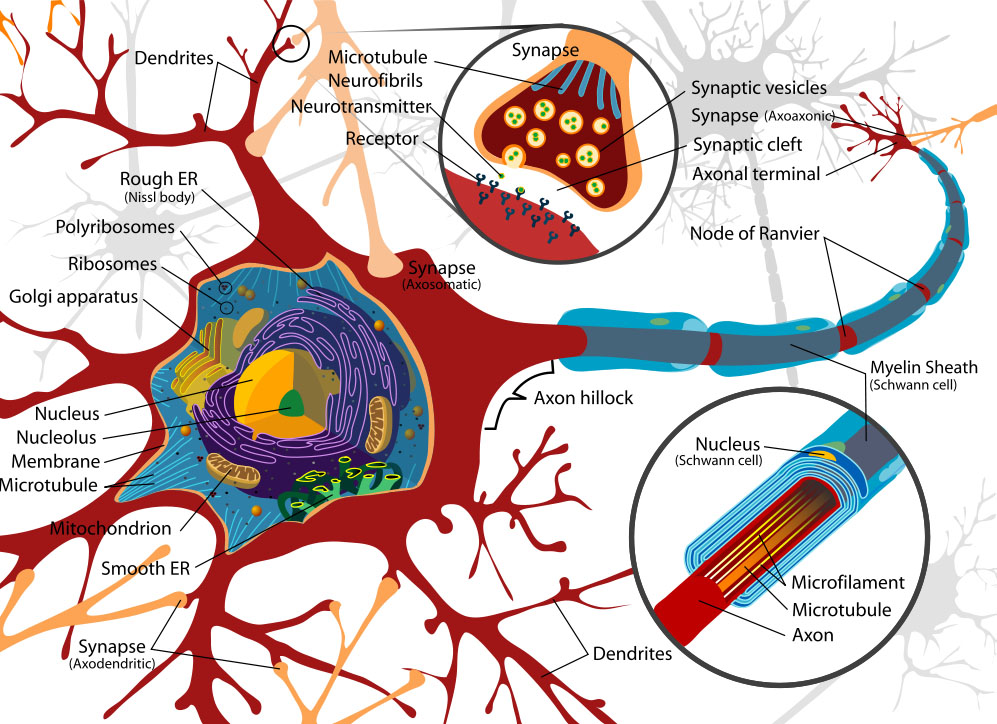 Part of the nerve cell that is damaged in people with MS is the myelin sheath, a fatty electrically insulating layer along the axon. Myelin is about 70% fatty acids and Omega 3 is a major building block.
Messages are passed from one nerve cell to another via neurotransmitters, which are made from building blocks such as amino acids.
Dr Wahls notes two proteins that cause problems for the nervous system. One is gluten which can sometimes cause severe neurological dysfunction. The other is glutamate, a neurotransmitter  which in excess causes overstimulation. Glutamate is found in many food additives such as mono sodium glutamate (MSG)
A diet that supports mitochondria and brain cells is therefore rich in building blocks, protein (amino acids), essential fats – particularly long chain omega 3, a mass of micronutrients – vitamins, minerals, trace elements, antioxidants and polyphenols, and probably a whole lot of other nutrients not yet identified.
Dr Wahls outlines her search and what treatment factors made the most difference for her.
2003 she began the paleolithic diet, she eliminated grains, milk, and legumes. She continued to eat meat, poultry, fish, vegetables, including potatoes, fruit and eggs. over time she went back to eating a little rice and legumes. NOTE: Dr Wahls health continued to decline and in 2007 was in a wheelchair.
In summer 2007, she took a blood test for food allergies, which identified a marked allergy to eggs, pinto beans and milk. She elimintated these.
November 2007, she started a neuro-stim programme.
December 2007 Dr Wahls started an intensive diet, rich with a minimum of 9 cups of fruits and vegetables a day. 4 – 6 cups of cruciferous or onion family vegetables, 3 cups brightly coloured vegetables or fruits.
January 2009 she went back to a writing a food / symptom diary and began the elimination diet with a 4 day rotation of foods. In March 2009, she eliminated all sources of cereal grasses to further restrict gluten exposure.
How was Dr Wahls able to return to walking and cycling from being in a wheelchair?
Dr Wahls outlines what she sees as having made the most impact:
1. Neurostimulation – Nov 2007 – plus exercise, increased muscle strength and size and generated growth factors in the brain, which stimulates repair of myelin and grows new connections between brain cells. She says that prepared her brain to do repair work, and the food made it possible for the brain cells to use the growth factors.
2. Rigorous elimination of foods to which blood tests showed she was sensitive.
3. Greatly increased intake of B vitamins, co-enzyme Q, antioxidants, and organic sulphur with specific food choices. This resulted in a big boost of micronutrients.
4. Switched to eating entirely organic food.
5. She focussed on eating food of every colour each day.
6. Entirely eliminated white potatoes, grains etc., so the amount of insulin her body made each day is low.
7. Kept a food / symptom diary and followed a 4 day food rotation.
She is clear for herself that increasing the nutrient content of her diet had a huge impact on her health. For example she eats 700 – 1000 grams kale each day. She says she notices a decline in energy and mental clarity if she doesn't eat kale for a few days, but not the same decline if she misses supplements.
Here is an abbreviated outline of foods Dr Wahl eats each day:
3 cups of cruciferous and dark greens
3 cups intensely coloured: 1 cup red vegetables / fruit, 1 cup blue black vegetables / fruits, 1 cup yellow/orange vegetable / fruits
3 cups others including: 1 cup mushrooms / onion family (for organic sulphur), and seaweed for iodine and trace minerals.
(Note: 1 cup = raw vegetables chopped = 1/2 cup cooked, an apple sized fruit, or 2 cups leafy greens)
Include spices and herbs.
Omega 3 rich foods, green leaves and animals fed green leaves, wild fish and seafood. And you could add fish oil.
Eat organ meats once per week
Regular bone broth
Fermented foods or a probiotic
What about supplements as well?
Dr Wahls has an outline of beneficial supplements – I suggest you pick up a copy of her book if you'd like more on these. Magnesium is one she recommends – 500 – 800mg per day.
My experiment: This is a brief outline only of some of her recommendations, however my new experiment is to make a point of eating 9 cups of vegetables per day, from the groups she recommends and see what impact if any it has. Note – my current diet is paleo, I do have a little wine and dairy and the occasional rice cracker and chocolate.
Anyone else like to join me? One other effect Dr Wahls noticed is that her doctor comments on how much younger she is looking! (I'd better head off to find some kale)

Great interview with Dr Wahls from The Huffington Post An MS-Stricken Doctor Changes Her Diet… and Reverses Her 'Irreversible' Decline
These videos are fantastic – I highly recommend you watch them: Dr Wahls talks about the diet she uses, and the science supporting it.
http://www.thewahlsfoundation.com/overcome-multiple-sclerosis-food-as-medicine/
[youtube=http://www.youtube.com/watch?feature=player_embedded&v=bEikq4x5Abc]
[youtube=http://www.youtube.com/watch?v=OdirdfwWCxA&feature=related]
[youtube=http://www.youtube.com/watch?v=l-XAasTl6B0&feature=related]
[youtube=http://www.youtube.com/watch?v=GLW7T1yNbTQ&feature=related]
[youtube=http://www.youtube.com/watch?v=aJR3nn-KOVM&feature=related]
[youtube=http://www.youtube.com/watch?v=3pSzRGnrWrg&feature=related]