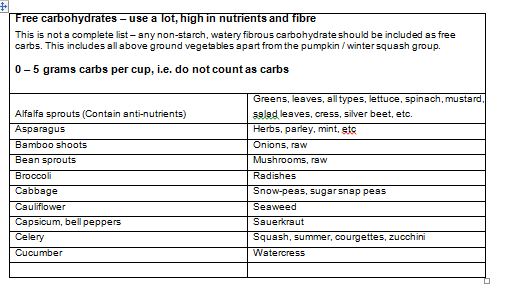 (If you would like these carbohydrate charts as a PDF, simply donate via paypal – at right – to get my paleo book sent to you – it also has omega 3& 6 charts and protein charts, plus 50 pages of other great practical paleo info like this)
One recurring theme in the paleo world is carbohydrate confusion. Should I eat carbohydrates if I want to lose weight, and if so how much?
There are a couple of contributing factors to this confusion:
1. The paleo diet has become viewed as a low carbohydrate diet.
This stems from the work done by Cordain, Eaton and others whose research found that the majority of paleo and hunter gatherer diets are lower in carbohydrates and higher in protein and fat than today's diet. However it needs to be noted (again) that this may be because of the dietary availability of carbohydrates, and the higher availability of protein sources. The Kitavan diet is a widely used example of a high carbohydrate paleo diet. Kitavan people are lean and healthy.
2. Very low carbohydrate diets are widely promoted for weight loss, and the low carbohydrate trend has become entwined with paleo eating. We are taught / or under the impression by very low carbohydrate advocates that any amount of carbohydrate which causes even the slightest rise in blood sugar, will raise insulin, and will cause us to turn carbs into fat and store it.
A diet high in refined carbohydrate diets is not healthy – especially the standard western diet, where carbohydrates are eaten far in excess of requirements. The sources of carbohydrates are mostly from grains and sugar / fructose, all of which contribute to health issues. As a result of our highly disordered eating – we are eating crappy carbohydrates in obscene amounts that are contributing to metabolic disease, inflammation, overeating and obesity – we've put most of the blame on carbohydrates, and consequently we've made all carbohydrates baddies. (Let's not forget that there are many contributors to our poor health not just excess poor quality carbs)
I'm of the opinion that most people do not need to eat a very low carb diet. Most feel better on a moderate carb diet, which is still a lot lower in carbs than the standard western diet, and more importantly if you eat a paleo diet, you will be cutting out the damaging carbohydrates. Quality carbohydrates eaten in the context of a paleo diet will be less that the standard diet. I've been working with a moderate carb diet for years – people still lose weight easily.

How much carbohydrate do you need to feel / perform your best?
I like the work of Paul and Shou-Ching Jaminet, who recommend about 400 grams of carb calories per day (about 100 grams net carbs) and Barry Sears, who recommends approx 1 – 1.5 grams carbs per lb lean body mass / day. I've worked with hundreds of people, and in my observation most people feel best at around these amounts, they have good energy, sleep well, have good appetite control and lose weight, and don't get any of the long-term problems that many people report on very low carb diets (less than 50 grams carbs / day) It takes around 3 cups of cooked sweet potato to get 100 grams of carbs.
I regularly see people eat far less than this, and wonder why they don't feel great. I also see many CrossFitters eating low carb diets and suffering – low energy, poor recovery, sleep problems, adrenal fatigue. CrossFit and other high intensity workouts deplete glycogen fast. If you don't replace it you wont perform at your best.
I'll leave it up to you to experiment on what works best for you. But I'd recommend no less than 80 grams day, and for most somewhere between 100 – 200 grams per day. If you are smaller, more sedentary, and prone to an apple shape, around the 80 -100 mark. The bigger you are, the more exercise you do, eat more. If you are lean, or tend to a pear shape – you will probably feel better with more – i.e 150 grams day or over.
To make it easy for you to get enough paleo carbs – I've done some charts with carb counts.
All portion sizes are approximately 10 grams net carbs. Easy.
Of course you don't need to count carbs, but in my observation, many in the paleo world do not eat enough carbs. This is because they eat lots of volume of vegetables, but not enough of the carbohydrate containing ones.
I've used cup measurements as portion sizes, you can easily translate this to a volume that you can 'eyeball'
1/4 cup = golf ball
1/2 cup = 1/2 large apple, or 1 large kiwifruit
1 cup = a large apple, or 1 small fist