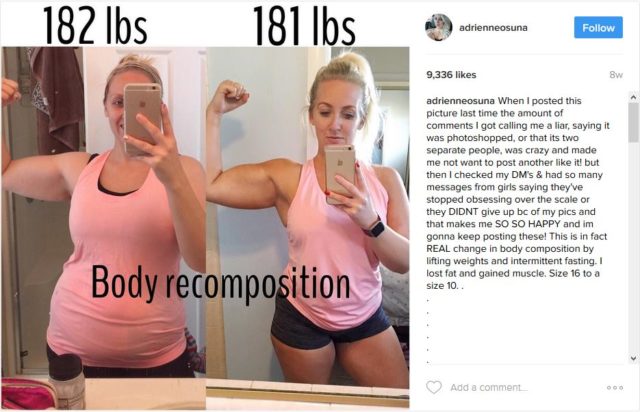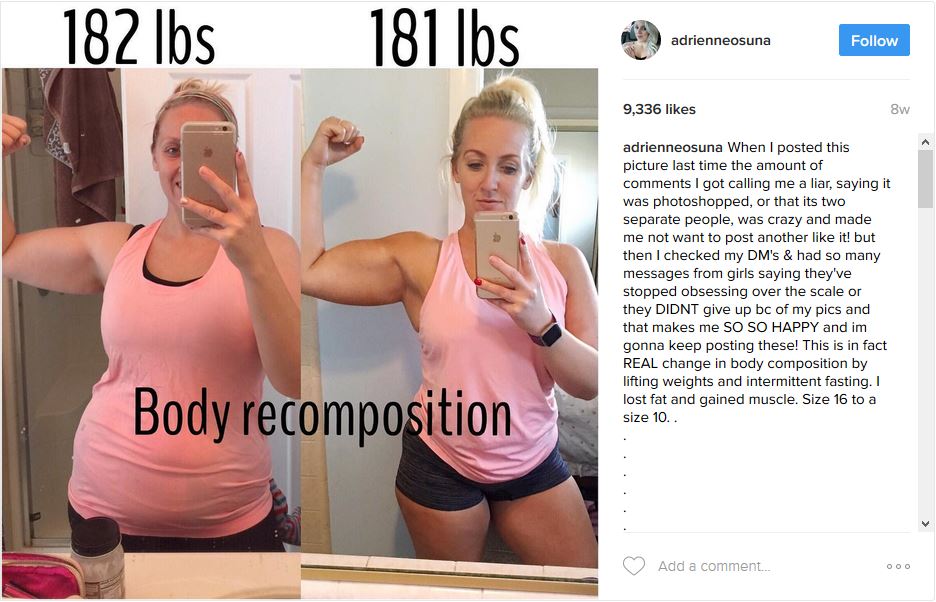 Here is a compilation of body images to (hopefully) shock you into exercising, especially if you are older. And – if you already are, give yourself pat on the back.
Did you know that after the age of 30 – you lose 250 grams per year of muscle and gain 500 grams of fat? (reference)
Point 1: Weight on the scale does not indicate a healthy body fat.
I love this image from Jason Seib's post on his client Deb's transformation. Deb stayed the same weight, but leaned out considerably. And is now impressively strong.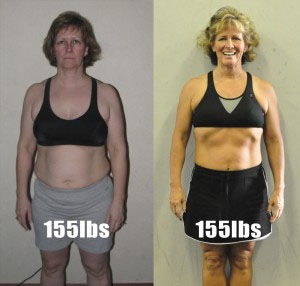 Waist went from 32.75 inches to 30 inches.
Chest went from 39.75 inches to 37.25 inches.
Hips went from 36 inches to 34 inches.
Upper arm went from 11.25 inches to 10.75 inches.
California mum Adrienne quit dieting four good and started lifting heavy weights, her body transformed yet her weight stayed the same. You can read her story here: Mum drops three dress sizes but only loses less than one kilo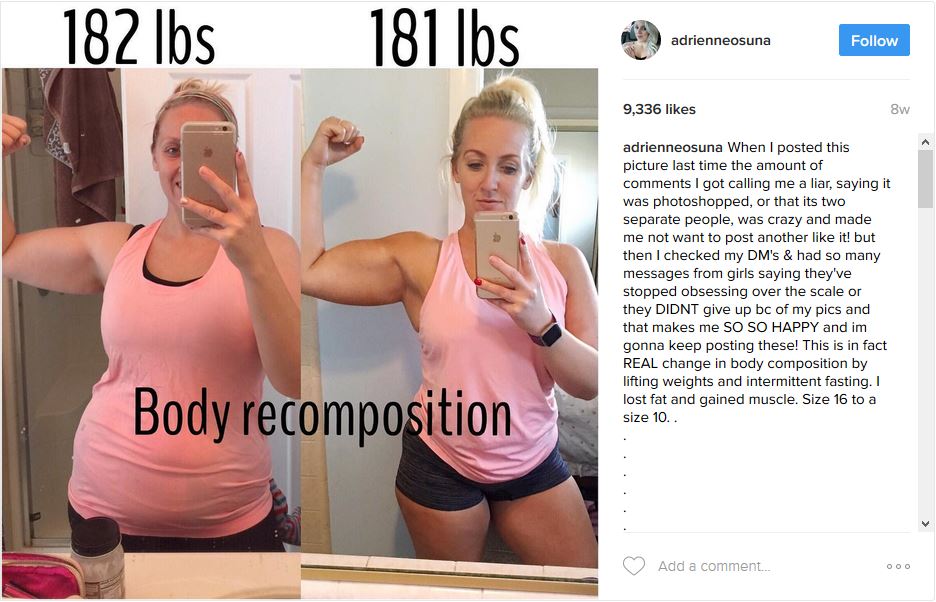 And from CrossFit Revelation
This woman is 9 bls (4kg) heavier – yet looks leaner, especially in the abdomen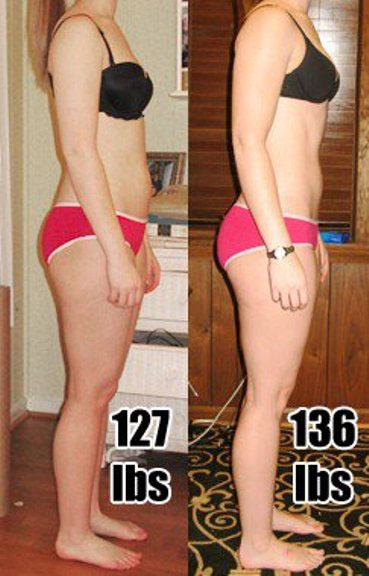 5 pounds of fat takes up much more space than the same weight of muscle (approxomately twice as much). If you're shedding fat and gaining muscle your weight might not change but your clothes will fit better and you'll look trim and fit.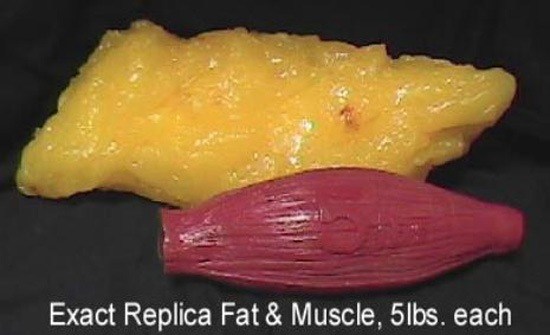 And here is another picture of the same woman 2 years apart – in both she is 160lbs, yet looks far slimmer in the second photo with more muscle mass and less fat. Image is from this post: Body Composition: That 'Last Five Pounds', and How to Deal With 'Problem Areas'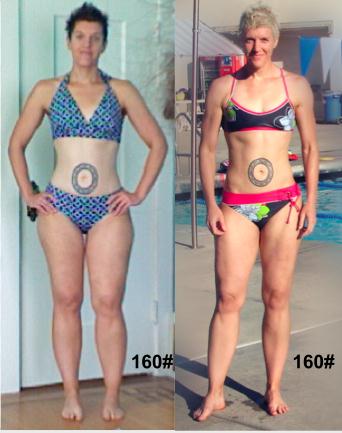 And another photo I found on sexyfreak.com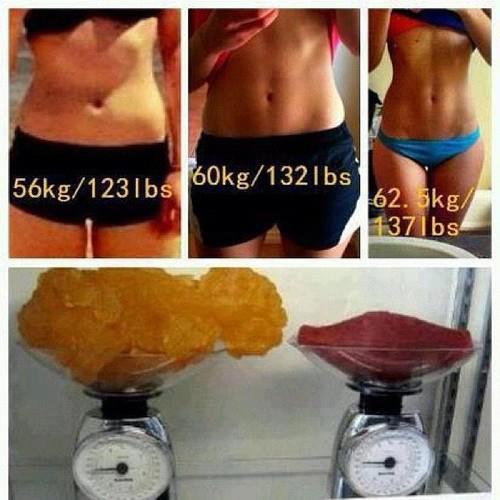 Taking a look on the inside – DXA scan
A DXA (DeXA) scan (dual-energy x-ray absorptiometry)  is a low dose x-ray known as DXA, to determine percent fat. DXA can be used to estimate bone density, lean mass and fat mass.
Here is a cool colour pic of a DXA scan (link) – you can distinguish fat from muscle and bone.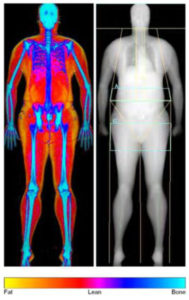 From this article:  BMI scale not accurate measure for obesity
2 men – exactly the same BMI (What is BMI? – it is a ratio of weight to height, it does not tell you if that weight is healthy muscle, or unhealthy fat) DXA images below are of two adults with the same BMI. While their weight and height may be similar, resulting in the same BMI, the person on the right has twice as much body fat as the person on the left. DXA images allow doctors to analyse bone density, lean mass and fat mass.
Man on left:
Muscle Mass 88.7 kg
Fat Mass 13.8 kg
Bone Mass 3.8 kg
Body Fat 13%
Total Weight 106.3 kg
Height 1.83 m
Man on right:
Muscle Mass 69.5 kg
Fat Mass 25.8 kg
Bone Mass 2.8 kg
Body Fat 26.3%
Total weight 98.1 kg
Height 1.76 m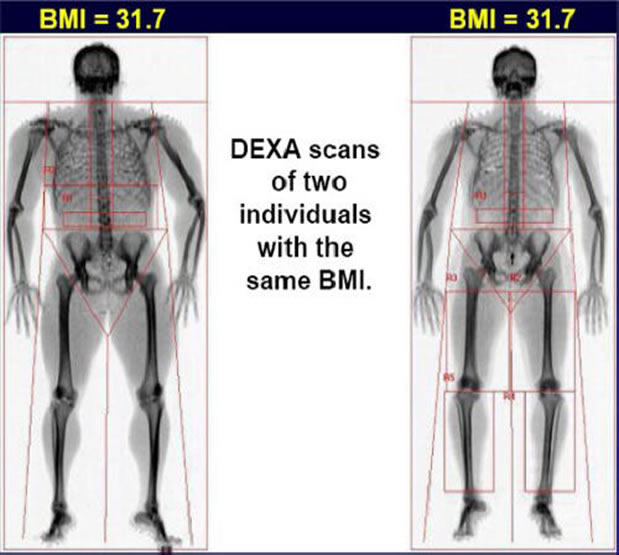 This graphic shows scans of real men all the same height and weight, however fat percentage and distribution is very different. (Source: Visualizing BMI's "Blind Spots")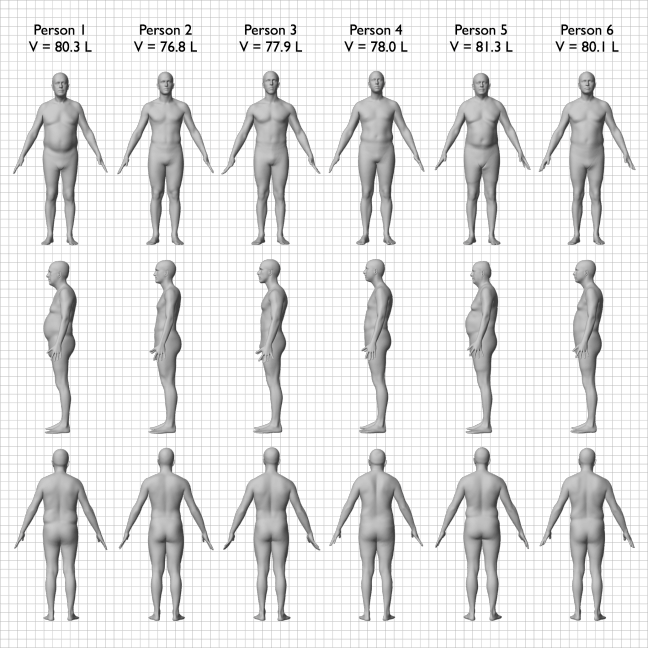 Many top athletes for example, some of our (New Zealand's) rugby players (yes we did win the world cup) would measure obese according to their BMI.  Sonny Bill Williams has a BMI of 29 – bordering on obese (height 6'4″, weight 238lbs)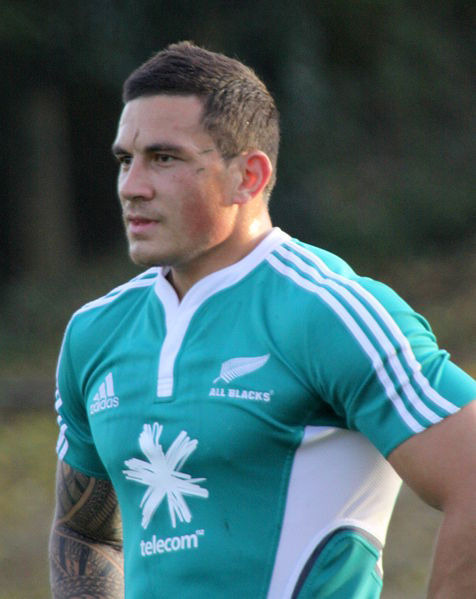 Want more eye-candy? – check out this video: Sonny Bill Williams removes his shirt
And now for an amazing cross section of a leg: an aging triathlete, compared to a couch potato. A graphic illustration of the importance of keeping active – particularly strength exercise to maintain muscle mass
The Incredible un-aging athlete from this study Chronic Exercise Preserves Lean Muscle Mass in Masters Athletes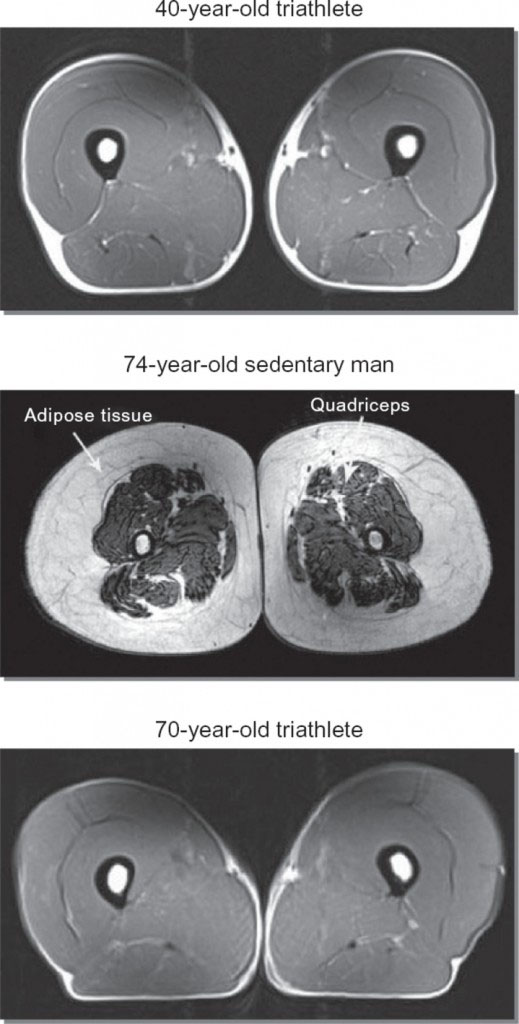 And here is a rather sobering view of  the inside if you are very overweight
Crushed lungs, strained joints and a swollen heart – the extraordinary scans that reveal what being fat does to you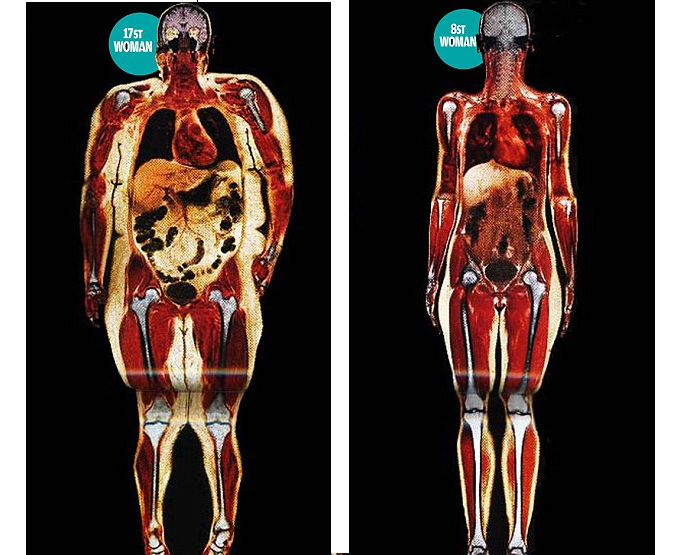 Take home message – keep up with your weight resistant exercise and eat real food
Links to read:
Must view: Body Fat Pictures and Percentages – What people look like at different body fat percentages, also great comparison pictures of same body fat combined with different amounts of muscle
BMI – real people in pictures: A collection of pictures of people with their height, weight and BMI, clearly pointing out the variation in sizes at different BMIs
Lifelong Exercise and Strength Training in Older Adults
Exercise only preserves the muscles you actually use
Exercise dosing to retain resistance training adaptations in young and older adults
Seniors can still bulk up on muscle by pressing iron
Sarcopenic obesity: strategies for management.
http://www.happyhealthylonglife.com/happy_healthy_long_life/2011/06/bones.html (the importance of weight resistant exercise for strong bones, ignore the diet advice)
http://blog.bodylabs.com/2015/01/29/visualizing-bmis-blind-spots/