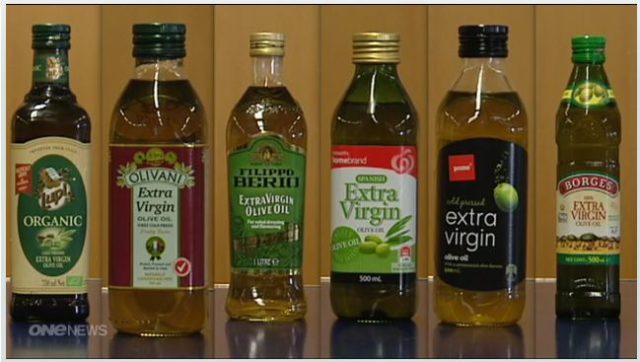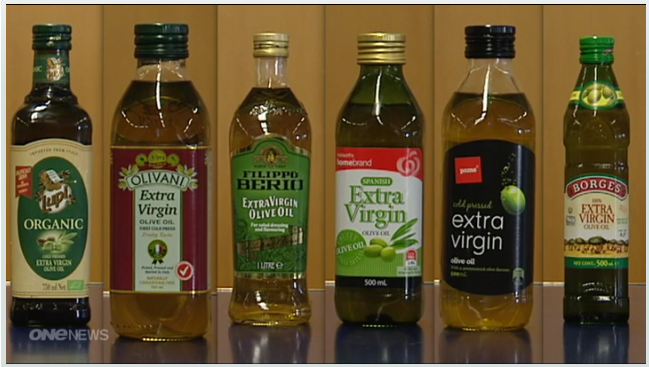 New Zealand imports 2.6 million litres of olive oil per year from Europe. If you (like me) buy your Spanish or Italian branded extra virgin olive oil (EVOO) at the supermarket thinking you are buying a quality product, you might be surprised at the results of recent tests.
Fair Go – a New Zealand Consumer programme, decided to quality test EVOO oils from supermarkets in New Zealand following reports from studies in Australia and California that showed 80% and 69% respectively were not in fact EVOO quality. Report: Most Imported Extra Virgin Olive Oils Aren't Extra Virgin . and Choice the people's watchdog: Extra virgin olive oil 2010 review; Is what you buy the real deal?
Fair Go picked 14 oils from supermarkets shelves, 7 European, 4 Kiwi (not the fruit – the country, New Zealand) and 3 Australian ones. Video here: TV1 Fair Go 'The Good Oil'
There are two tests to determine whether an oil is up to EVOO standards:
1. A Sensory test carried out by IOC certified olive oil tasters
2. A chemical test, carried out in a laboratory
An International Olive Oil Council (IOC) panel of tasters were brought together at the Nutrition Department of Massey University. The oils were blind taste tested. The 7 European oils failed the sensory test, as did one New Zealand brand olive oils (Peta Mathias).
The tasters said all these oils tasted very unpleasant.They think New Zealanders are so used to using these oils they don't notice they are off.
I won't be buying any of these oils again – all were rancid, and Olivani and Lupi failed Australian EVOO test
The oils were sent to an Australian Laboratory (rated the top lab on the world for the last 2 years)- all passed IOC EVOO standards, however when put through a more stringent Australian test two failed – Lupi and Olivani olive oils.
When tested for oxidation – ALL 7 European oils were described as having varying degrees of rancidity, which the tasters could clearly taste. Not only does oxidised oil taste bad – it is full of free radicals and is bad for you.
EVOO has strict standards of manufacture – Olives must be pressed only once – mechanically. Oil must not be extracted chemically or with excessive heat.
According to Tom Mueller author of "Extra Virginity" (book and website) the oil exported to New Zealand and Australia are the dregs that can't be sold in Europe – inferior olive oil.
Storage: EVOO deteriorates with 3 things – light, air and heat. It must be stored in sealed dark glass bottles and kept cool. Transportation from one side of the world to the other can subject the oil to excessive heat.

I won't be buying cheap European oils any more. We have some of the World's best olive oils made from New Zealand grown olives. Village Press – one of the brands tested that passed all tests is sold through supermarkets.