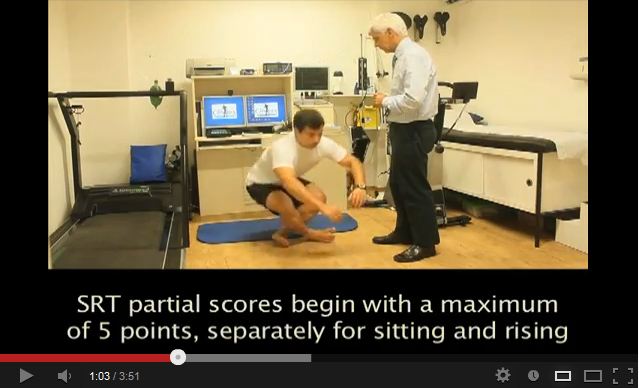 My body has recently gone through a big marker of the aging process and I'm now officially menopausal, this milestone has made me increasingly interested in the state of old age.  When one realises that there are far fewer years left to live than one has already lived, it becomes increasingly important to make them productive, and to do this mind and body to be in good shape.
The dumb things I did when I was younger are unimaginable now (smoking for example). Whether I like it or not, my body is changing with age. Menopause hit pretty suddenly about 18 months ago, paleo and CrossFit did not make me immune to symptoms, however I believe they lessened the impact considerably. As many other women have reported, menopausal symptoms are dramatically reduced eating a paleo diet. The comments from women at the end of this post are anecdotal evidence of this: "Q&A: Is Paleo Good for Menopausal Women?"
So how was / is menopause for me?
Well – I had hot flushes, often many times a day, especially for the first 8 months. They lasted just a few minutes, I'd tear off the cardigan – then I'd feel a chill. Now however – they are pretty much gone. 2 or 3 a day now, short and slight. I had a few associated sweats, but not bad.
Yes – I did / do have brain fog. Things are harder to remember. When something goes into my brain that I need to remember, it feels a bit like it has disappeared into a swamp, and I wonder if I'll ever retrieve it. What made a difference for me  was taking omega 3 as a supplement as well as eating fish. I'm not sure the reason – but Dr Sears OmegaRx has a noticeable impact on my brain and energy levels. Perhaps because I have auto-immune issues I need a higher dose of omega 3. Despite that I did as well as I expected in my first post grad paper early last year. I notice I need to make a greater effort to retain information than when younger.
My sleep has never been affected, I sleep really well, nearly always a solid 8 hours a night. I take magnesium daily. I do make sure my life is not stressful though. I work as much as I can handle, not more – I refuse to be some superwoman! I work part time, I took just one post grad paper past year, and because of the nature of my husbands work – I do the majority of house stuff and am the main kid taxi.
I've put on a bit of torso fat, and irritatingly my favourite dresses are a tad too tight, I need to be able to breathe when I look good! Recent blood tests have shown my thyroid is finding it hard to keep up hormone production, so the despite hoping I'd never have too – I've started taking a low dose of levothyroxine. Thankfully the waist has started to trim down, and I feel better on it.
Here is my most recent pic – I know you want to know what a 53 year old post menopausal CrossFitting paleo nutritionist with Hashimoto's looks like! Here I am with Dr Anastasia Boulais after they presented the Whole9 workshop in Cairns.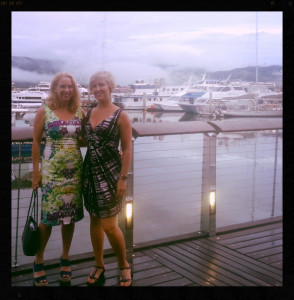 Keeping up strength
When I look at  old folks (I mean older  than me) the BIG difference in looks (yes I am a bit vain!) is that those who have a strong body – good muscle tone look so much younger. As we age we lose around 250 grams of muscle every year after the age of 30. This kind of muscle loss is entirely unnecessary. As we get older body and mind maintenance takes far greater effort; memory and learning, diet and health, keeping strong. Mortality of all types is strongly associated with loss of muscle mass and strength. There are numerous examples of men and women who have made an effort to keep strong and fit. They look and act years younger than their age. These are the people I'm interested in – not the norm, but those who show us a better way.
A simple strength test
How do you test whether or not you have enough strength to maximally decrease your mortality risk? Try this simple test: Lower yourself to the floor using the minimum amount of help from arms, then stand back up – again without using your arms at all if possible. If you use no arms – you score 5, just one arm score 4, and so on. Those who scored 4 – 5 on the way down and again on the way up giving a total of 8 to 10 had a much lower mortality
Like this: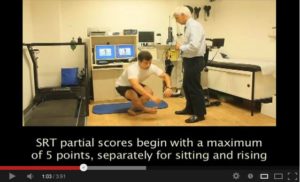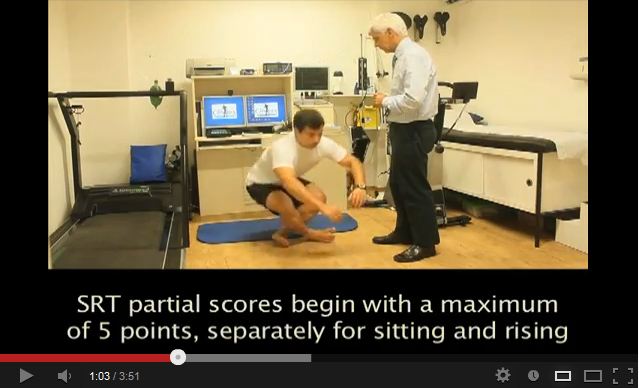 Watch the entire video here: http://www.youtube.com/watch?v=MCQ2WA2T2oA
And read about the study here Ability to Sit and Rise from the Floor Is Closely Correlated With All-Cause Mortality Risk
The study authors note:
"If a middle-aged or older man or woman can sit and rise from the floor using just one hand – or even better without the help of a hand – they are not only in the higher quartile of musculo-skeletal fitness but their survival prognosis is probably better than that of those unable to do so."
I had to try this a few times – but I'm pleased to report I score 5 on the way down and on the way up.
Have you tried this test? Anything less than an 8 PLEASE – seriously consider upping your strength exercise.
And if you are a female like me – what has your experience of menopause been?