I've been hesitating to post about this topic again, and more specifically about me personally and menopause.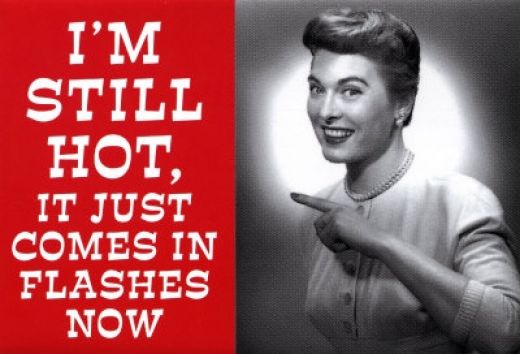 I'm officially post menopause. No menstrual cycle for 2 years now, or is it 3?
Somehow it's a far more defining landmark in my life that turning 40, and then 50. I didn't feel any different at those ages than I did at 30. Even now I still feel mid thirties. (I'd say in my 20's, but due to my immature brain back then the 30's are more appropriate.)
Menopause for me is filled with negative connotations and associations; hair turning grey, jaw line losing it's definition, bodies sagging and thick around the middle. Butts disappearing and upper arms flapping. Brain power degenerating, and mind and willpower going soft.
And I imagine the world looking at us menopausal women and judging us as past our prime, no longer vibrant and attractive, less able, less dynamic, less smart. These changes marking the start of the long slow decline into old age and retirement.
Menopause is a turning point. My body is no longer fertile, hormone levels that keep us young and healthy decline dramatically with uncomfortable physical, psychological and cognitive consequences. Estrogen, progesterone and testosterone levels in my body are now barely measurable. Everything I considered normal about myself has changed. While going through menopause, for a while I thought I'd lost my mind, I forgot where I put everything. When studying for exams, I couldn't remember as easily as I used to be able to, it took so much more effort. When writing assignments, I struggled to keep a lot of ideas in my mind the way I could in the past.
Hot flushes which started out as "wow this is interesting" have become a tedious regular intrusion. Triggered by the smallest things – a small change of temperature, eating, drinking, feeling anxious, getting into bed, turning over in bed, putting on a jersey, feeling a ray of sun on my skin, my husband hugging me. Within seconds a heat wave swamps over me, however I can be grateful that they are short – usually less than a minute, rare – only 4-5 times a day, and they don't keep me awake. (Women eating a paleo diet regularly report far less severe menopause symptoms)
More recently my strength has been dropping and my waistline expanding. I don't feel as resilient or motivated, yet my visions and plans haven't decreased at all. They just seem to be staying longer in my head or on my 'to-do' list rather than becoming reality. Menopause causes one to take stock, as the inevitable fact of body aging becomes all to close for comfort, the reality of less time left on this earth, or should I say less productive time left is a frequent thought.
Yet – I have no plans to retire, nutrition is a passion that I'm consumed by, and I want to learn and contribute as much as I can while my brain is still working. I love learning, and push myself to continue doing post grad papers. I marvel at young women completing a PG Dip in a year, when it will take me 4. I remember how in my late 20's I did the same, whilst working weekends to support myself in London (PG Dip in design for disability, a career I did for 10 years in my 30's). But then I had no children, now we have teens, one of whom we are trying to avert from a life of crime. I like to work at least part-time, and have the household to look after, as my husband works 12 hour days. I'm no superwoman, and handling stress is not my thing, I'd rather slow down than feel I have cram in everything to the detriment of my health and sanity.
So whilst menopause has treated me pretty well – it still sucks, hot flushes are annoying, the brain not being as sharp is scary.Losing strength is frustrating as well. I'm trying a low dose testosterone cream which is helping a lot with brain and strength.
A thickening waist has had me reassess my diet once again. Whereas an unmeasured balanced paleo diet worked before, now I've gone back to a fairly accurate Zone diet portion control with regular 3 meals a day, and no snacks. It's working. One aspect of menopause for me is less appetite control, probably associated with hormonal changes that cause more insulin resistance. The smaller high protein regular meals are helping here and I'm not hungry.
Muscle mass matters a lot: fat-free mass decreases and fat mass increases after menopause, so the only way to counteract this is by keeping up weight resistant exercise – i.e. lift as heavy as you can and stay strong, and don't be scared about getting bulked up – you won't.
The other scary change for me has been a worsening of my thyroid, I now have to take thyroxine (which works just fine) and a scary increase in LDL cholesterol. More about this in another post.
If you are a woman going through menopause and you are on a paleo diet – how have you been getting on? I'd love to hear your experience.