This is a follow up from my previous post: "Menopause sucks, even on a paleo diet"
It's just over a year on. I've been playing with diet and exercise and menopause supplements. Trying to get back that feeling of pre-menopausal normality and trying to ward what aging is doing to my body.
Here's what I found works
Move every day – walking, weights, and high intensity short bursts.
I go to the gym 3 – 4 times a week, I lift heavy stuff, barbells, kettlebells. You MUST and if you can imagine me raising my voice  – MUST lift heavy. You need to put a truckload of weight through your muscles and bones to keep them strong and looking good. The average person loses 250grams of muscle every year after the age of 30, about 2 kg every decade. It's just not loss of mass – sarcopenia– which makes you look spindly and flabby but dynapenia, loss of muscle strength that you need to worry about. Loss of strength is associated with faster decline and death and being far less functional as you age. Loss of strength and muscle mass are associated with mortality from all causes.
Here is a picture from this earlier post showing what happens to your figure post menopause when you lift heavy: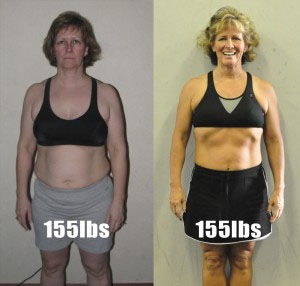 And here is an excellent talk by Jamie Scott at the Ancestral Health Symposium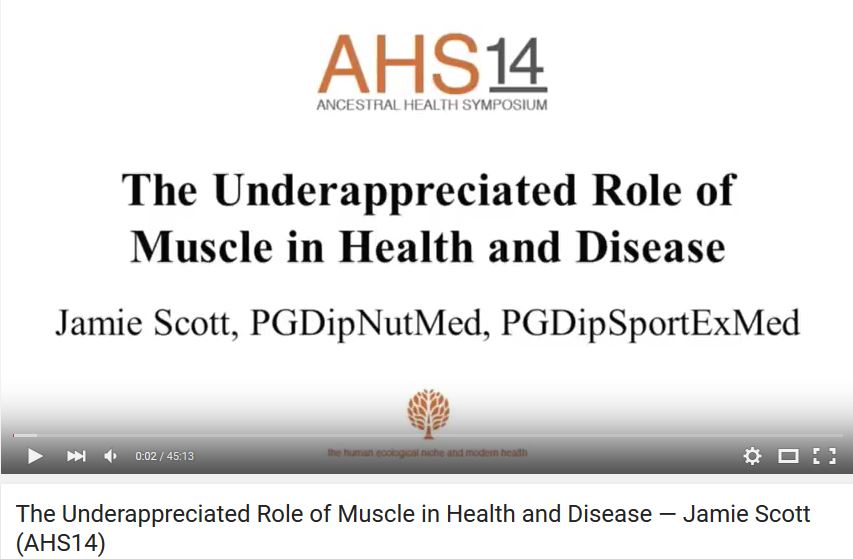 I don't spend hours at the gym – you really don't need to to maintain strength. I do around 4 x 1/2 hour sessions per week. I focus on big movements. Dead-lifts, barbell squats, one leg squats etc. Pull-ups (with as little assistance as I can to make them hard), push-ups, bench and shoulder press. Mostly I do 6 – 10 reps x 3 – 5 sets, just managing the last few reps. (Find what works for you – this is what I like)
High intensity – for me is it either something like jumping squats, some short bursts on the rower at the gym, kettle bell swings, or sprints in the park. I walk then run for about 30 seconds and keep doing that for about 1/2 hour.
Walks – I walk every day I'm not at the gym, around 1/2 hour, I enjoy getting a nature fix – so I go to the beach or walk in the park next to my home. (Western Springs Park in Auckland)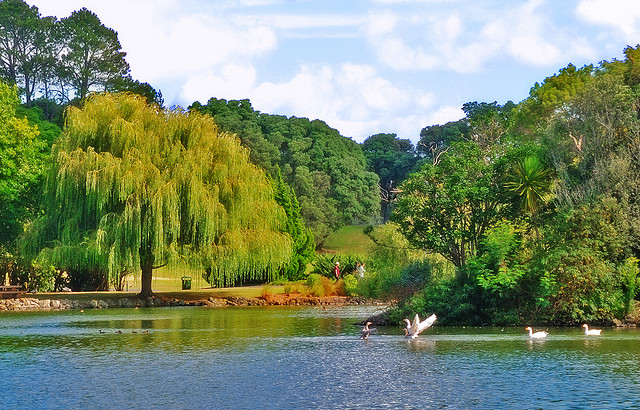 Incidental activity. I've got a desk that I can adjust to standing or sitting. I do 'snacktivity' getting up for a short walk every half an hour, using the stairs at work instead of the lift etc. It adds up – 2 flights of stairs which take a minute to walk up – doing that 4 times a day is 8 flights. I don't even notice it as exercise.
2. Diet
I've tried a bunch of different things to get my weight – as in tummy fat down. I'm partially successful. The most successful diet regime I've found for me is Metabolic Effects menopause diet.
My diet is still protein and every meal, loads of vegetables and at least 1 huge salad a day, some fruit, some root vegetable starch, 1/2 – 1 glass of wine (some days), for fats I only add monounsaturated fats – whole nuts, olives, olive oil and avocado. Saturated fats only if they are on the meat I eat. (I don't fare well on saturated fats like coconut oil and cream – they contribute to my high LDL). What doesn't work? Sugar, refined grains, (even gluten free) eating too much, high fat meals, more than 1 glass of wine.
Here are links to a couple of useful articles by Metabolic Effects:
Postmenopausal? Perimenopause? Menopause? 4 Tricks For Weight Loss
What Causes Menopause Weight Gain?
So – have I lot weight you are wondering? Yes a little. Dresses that were tight a year ago and comfortable now. I can't wear my pre-menopause skinny clothes though.
3. Supplements
General supplements:
I try to get a high nutrient diet, a big range of veggies, raw nuts and seeds, organ meats, animal foods, seafood. I find despite this I feel better adding in some B vitamins every so often, (in a iron free multivitamin) high purity omega 3 (I use OmegaRx) most days. I take vitamin C with bioflavanoids, tocotrienol rich vitamin E,  extra selenium (for my hashimotos), curcumin, vitamin K2, and vitamin D in the winter. Magnesium at night.
Specific menopause supplements:
At my worst, when my memory was bad, my strength decreasing, libido non-existent, I recognised that low testosterone was affecting me. The holistic doctor I see found that my levels were undetectable and I used testosterone cream for a while. That helped so much – I felt normal again in 3 weeks. It appears that this testosterone drop was temporary. I don't really need need it any more. This graph is interesting – it shows DHEA levels dip and then increase again – DHEA converts to testosterone (reference The relationship of circulating dehydroepiandrosterone, testosterone, and estradiol to stages of the menopausal transition and ethnicity.) 
Hot flushes were an annoyance. My symptoms are from low oestrogen. The best menopause supplement for me is this one. Magic! Almost no hot flushes, sleep like a baby, no more night sweats.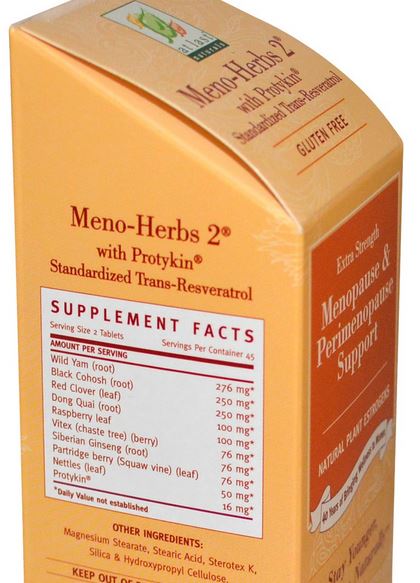 4. Stress
I'm not one to stress out in general, I'm certainly no type A personality. If I can't fit things into my life – I let it be. My teenage son causes stress and that is hard. Being supported helps. I tend to pace myself – it took me 4 years to finish my post grad diploma. Staying up all night to finish assignments is not something I do now (I regularly did when I was young). Just having a stressful thought can bring on a hot flush. So avoiding or managing stress is a big contributor to reducing menopause symptoms to a minimum.
Well that's it so far. As always I love to get your feedback and what works for you.