NOTE: If you found value in this post, why not donate (at right) and receive my 60 page paleo (whole food eating) booklet, with all the info you need to revamp you diet for health and weight loss. Thanks, Julianne 🙂
You may have watched Nigel Latta last week- "Is sugar the new fat?" in which Nigel showed us the health issues related to sugar, and led us through the supermarket to show us the insidious ways sugar is added to nearly all processed food.
As a nutritionist – I was asked to do the research for the programme, and I have to say what I found out about the problems with a high sugar consumption surprised me. It was shocking watching 2 year olds having numerous teeth pulled out due to decay from drinking sugary drinks. I was also surprised at the amount of sugar the average person in New Zealand consumes – 32 teaspoons per day – and that most people are simply unaware that they are eating way beyond the WHO recommended level of 9 teaspoons maximum.
If you missed it – here is an article with a good overview of the programme: 'Sugar leaves sour taste in Latta's mouth'
You can watch the programme too on TVNZ on demand here Nigel Latta 'Is sugar the new fat?'
Sugar is mentioned in the programme as causing problems for you liver, cholesterol, teeth, and leading to obesity and type 2 diabetes, but it does more than that – for example it increases uric acid and therefore gout. Here is an article you should read for the full gamut of health issues that sugar contributes to. 15 Terrible Things That Happen If You Eat Too Much Sugar
A number of questions arose from that programme:
How do I figure out how much sugar is in the processed food?
How do I reduce sugar so I get down to the recommended 9 teaspoons a day or less?
What do I eat to lower my triglycerides and lose weight like Nigel?
What about naturally occurring sugars – do I count those?
Treats and chocolate – are they okay?

To answer question 3: What did Nigel eat?
Dr Mikki Williden – the nutritionist on the show has written an excellent post covering exactly what diet she recommended to Nigel and why:
So…. how did Nigel Latta change his diet anyway?
Question 2: How do I figure out how much sugar is in the processed food?
A teaspoon of sugar weighs about 4 grams.
Look at the nutrition label:
You will see two columns – amount per serve and amount per 100 grams
Here are label examples from drinks – (taken from diabetes.org.nz reading labels)
Go to carbohydrates and the subset of carbohydrates – sugars
Note the serving size – in this example it is 250 ml (which is one cup) and there are 4 serves per container – in other words these are litre bottles of drinks with 4 x 250ml serves in each. Note that per serve on both the fruit juice and the soft drink there are 26.8 and 26.5 grams of sugar. Divide 26.8  by 4 = 6.7.
Per cup you get nearly 7 teaspoons of sugar in both juice and soft drink.
Diet fizzy drink of course has no sugar because it is artificially sweetened with a chemical sweetener. In my opinion – this is not a better option as you retain your taste for unnaturally sweet foods by drinking these.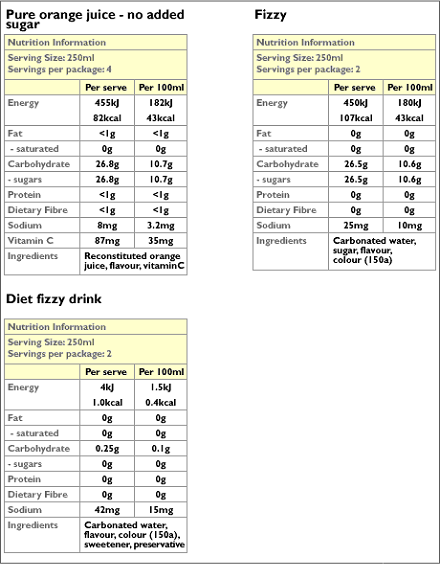 We know that juices contain sugar, but perhaps we didn't realise just how much!
What about Marmite that Nigel looked at on the show? Here we use the label information taken straight from the Sanitarium website.
You may have noticed Nigel with the calculator – what he did was take the amount of sugar per 100 grams – 11 – and multiplied it by 2.5 to get the amount of sugar per 250 gram pot
11 x 2.5 = 28. Then he took 28 and divided it by 4 to get the amount of sugar in teaspoons per container – the answer is 7 teaspoons of sugar per 250 gram pot of Marmite.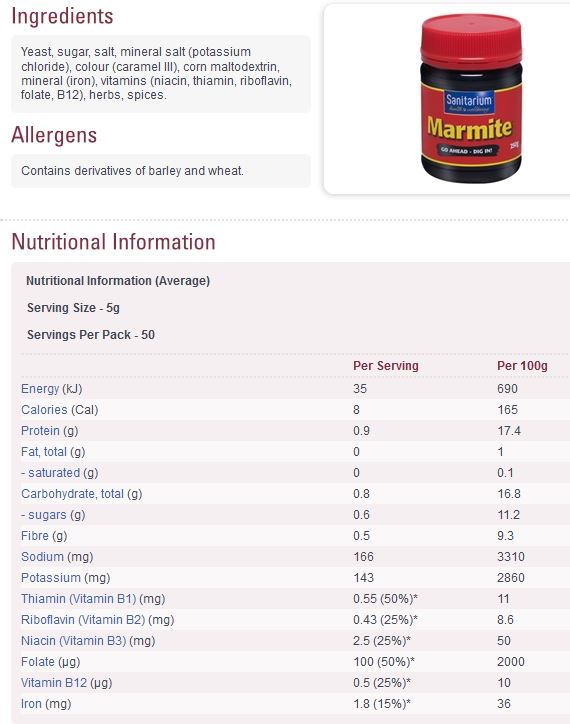 Another label that Nigel did not look at (one can only fit so much into a 43 minute programme) is some dairy-food I came across that had an NZ Heart Foundation tick.
CacliYum caramel, 150 g pottle. As you can see from the nutrition label – there is 15.9 grams of sugar per serve – divide 15.9 by 4 = 4. Four teaspoons of sugar per pottle of dairy food – that is the total added sugar that a child should eat in one day!
But what about foods that don't have labels?
How do you know how much sugar you are eating when you grab a piece of cake, slice or muffin in a cafe, or a handful of lollies?
Here is a little chart to help you out – the amount of sugar in one typical serve:
Note – most of this information was taken from the McDonald's McCafe and standard menu.
| | | | |
| --- | --- | --- | --- |
| Food | Serving size | Sugar per serve grams | Sugar per serve – teaspoons |
| Cake -dense | 1 matchbox | 6 – 10 | 1.5 – 2.5 |
| cake | Standard café piece, 150 g | 50 – 60 | 12 – 15 |
| Biscuit | Small 7 cm diameter | 4 – 8 | 1 – 2 |
| Chocolate bar e.g. Moro | 60 gram bar | 32.5 | 8 |
| Chocolate e.g. Roses | 1 piece | 5 | 1 – 1.5 |
| Slice, bakery, cafe | 9cm square x 2 cm thick, 100g | 30 – 55 | 7.5 – 13 |
| Muffin, café size | Muffin 130 grams | 40 | 10 |
| Thick-shake | large | 70 | 17.5 |
| Iced chocolate | Tall McDonalds | 58 | 14.5 |
| Hot chocolate – | Tall McDonalds | 47 | 11.5 |
| Ice-cream scoop x 1 | 100g, about 1 small cup | 26 | 6.5 |
|  Nice n Natural strings |  1 string |  8.8 |  2 |
A quick note about naturally occurring sugars in whole food
When you look at a milk label – you will note that the it has about 10 grams of sugar per 200mls. In the case of milk – this sugar is naturally occurring – NOT added. The same with fruit – the sugar is in fruit in its original form. Eating whole fruit is fine – it comes in a package with fibre and nutrients. So if the food you are eating has sugar naturally and the food has not been altered by refining and processing – not a problem. Feel free to chew on some sugar cane!
6 ways to cut sugar from your diet
As we saw on the programme – sugar is in a huge number of processed foods – flavoured tuna, Heart Foundation tick mayonnaise, Marmite, Baked Beans etc. In fact it looks almost impossible to eat a modern diet without overdosing on sugar. To reduce your sugar intake – here is the hierarchy of foods to remove – starting from the worst offenders – that is, foods highest  in sugar and lowest in nutrients.
1. Cut ALL soft drinks and sugared drinks.
Cut out any drink that has sugar in it – every single one – even that so-called 'healthy' fruit juice. Every single glass of drink with sugar has at least 7 teaspoons of sugar. This includes flavoured milks, soft drinks and fruit drinks of all types, and 'sports' drinks (unless perhaps you are running a marathon).
What do you drink instead? – Plain unflavoured milk (preferably A2) for children as long as not sensitive to dairy, light blue or blue top. Water, or soda water (make your own with a soda stream) with a squeeze of fresh lemon or lime to flavour if desired.
2. Cut out lollies, sweets, chocolates etc.– they are nearly pure sugar with no nutrients
3. Cut out biscuits, cakes, muffins, slices, buns, bakery products, cro-nuts, cheesecakes, etc. The primary ingredients are refined flour and sugar. Note: this includes gluten free and other 'healthy' alternatives.
Refined white flour turns into glucose rapidly during digestion, it has few nutrients, and in this way is little different from eating sugar.
4. Cut out desert foods: ice-cream, frozen desserts, sugary puddings
5. Cut out breakfast cereals – most cereals are made from highly refined grains, with a lot of added sugar.
6. Cut down on refined grain products, that is- foods made from white flour
Refined grains (cereals, bread and bakery products) turn into glucose very quickly during digestion, this glucose enters your blood stream  and causes a rapid rise in blood sugar just like eating sugar or sweets. To deal with the glucose in your blood you send out insulin, which quickly removes the sugar leading to a blood sugar crash and sugar cravings within a couple of hours of eating.
So what should I eat instead?
The best way to avoid processed foods is to completely rearrange your diet so that you are not relying on refined carbohydrates as you main sources of energy.
Mikki's article outlines the diet that she gave to Nigel – I highly recommend you take a look at that.

Here are some tips to overhaul your diet and avoid processed foods:
Tip number 1 –  start your day with protein, and add protein to each meal, it has a huge effect on satiety – that is –  it stops you getting hungry, and helps keep your blood sugar stable so it won't come crashing down with major sugar cravings an hour later. Protein is high in animal products like poultry, meat, eggs and cheese. Protein is also found in unsweetened yoghurt (although not as high as meat or eggs). You don't need large amounts – about a palm size per meal.
Tip number 2 – Eat as much food as possible that is unprocessed and whole food that a hunter-gatherer would recognise as food
Tip number 3 – Base your meals around whole plant food, especially colourful vegetables, and some starchy veg (but don't forget to add that portion of protein)
Your Carbohydrates: Eat fresh vegetables including starchy root vegetables and whole fruit for your carbohydrates. The bulk of your meals should be vegetables.
Your protein: Eat fresh meat, poultry and eggs for protein, and cheese if you tolerate dairy.
You fats: Eat fresh nuts and avocado, and healthy oils like olive, macadamia, and other nut oils,  and coconut for your fats.
If your diet consists of real, whole food instead of processed food – you'll eat a no added sugar, you will reduce your risk of disease,  sleep better, feel more alert, lose weight and have more energy.
Eat colours and flavour from nature – if you want something sweet eat real whole fruit, and eat a large range of colourful vegetables and fruit
Think about this:
Colours and flavours in nature indicate nutrition; anti-oxidants, polyphenols, phytonutrients
Colours and flavours found in most processed food are chemicals have no nutrition or are toxic
Meal Ideas
Breakfast:
Eggs –  (3 or 4)  whole eggs scrambled,  boiled, poached, or an omelette. Have with sautéed veggies, grilled tomatoes and / or a bowl of fresh fruit.
Fritatta: 1 – 2 cups of veggies both colour and starch (leftovers are quick), heat through. Add seasoned beaten eggs and cook until set.
Cooked fresh fish e.g. salmon. With sautéed veggies (leftovers make this easy) and wilted spinach.
Smoothie – make with egg white or unflavoured whey powder, fresh or frozen fruit (berries are best), flax, olive oil or avocado oil. You can add greens too.
Salmon,  tuna (or any type of cooked fish) patties – make with flaked fish, mashed kumara, egg to bind, season and add herbs like parsley. Then brown on each side.
Breakfast hash – any left-over meat and vegetables all sautéed together.
 Lunch:
Cold meat / poultry and large mixed salad with avocado or nuts, olive oil and lemon juice or balsamic dressing. Follow with a piece of fruit.
Sashimi (raw fish) and seaweed salad plus a few rolls of sushi. The sashimi will give you extra protein for satiety.
Make extra dinner from night before and take to work and heat.
Soup – home-made vegetable soup with extra meat / fish or chicken added. Use a mix of starch and non starch vegetables.
Make large muffin sized Fritattas, or mini bacon and egg pies. Have with salad.
Root vegetable salad – there are many varieties, add a palm of protein like chicken, tinned fish, eggs, some greens and dressing
If you tolerate grains, use thin slices of whole grain bread and pack with protein like cold meat or chicken and a big load of salad veggies
Dinner
Your plate should be about 3/4 vegetables; some starch and lots of colour, plus 1/4 meat or other protein food (about a palm size) Legumes are okay if tolerated. Make sure they are prepared properly; soak for 24 hours and cook well.
Any type of typical dinner can be adjusted to suit, add more veggies, remove or reduce the refined grains, or replace with root vegetables.
Curries, use coconut cream and curry powder or paste with the meat. Have with lots vegetables and a small portion of rice, or make cauliflower 'rice' (This is finely chopped and cooked cauliflower)
Stews or Casseroles (thicken with arrowroot, potato or tapioca starch) Standard stew: meat, onion, carrot, parsnip, stock, wine, canned tomatoes, herbs.
Slow cooker meals
Roasts, use kumara, pumpkin, courgettes, carrots, capsicum, eggplant, garlic, red onions, beets, leeks etc. (you can roast many different vegetables), and meat or poultry of choice. Tip: make a whole pile of extra roast veg that you can toss with dressing and eat for lunch the next day.
Stir-fries, with a range of veggies and meat of choice, have with a little rice or cauliflower "rice".
Fish and seafood – pan fry, baked or foiled, not deep fried. Eat regularly. Eat with lots of vegetables or salad.
Bouillabaisse is a delicious way to use a variety of seafoods in one big pot
Meat loaf, add some minced organ meats, lots of herbs but no bread.
Meat balls, home-made, tomato sauce over veggies instead of pasta.
Spaghetti bolognese over sautéed strips of courgettes or other vegetables instead of pasta
Bacon and egg pie (no pastry)
Shepherd's pie, top with creamed cauliflower or mashed kumara.
Sauces and gravies
Replace flour with arrowroot, cornflour or tapioca starch,  to thicken.
Sauces like tomato sauce often contain a lot of sugar so use in small amounts, or find low sugar varieties
Snacks:
Fresh Fruit (in moderation, berries are great – the colour is full of nutrients)
Carrot and celery sticks, nuts
Home-made beef jerky, or biltong
Boiled eggs
Cold meat
A small can of tuna or salmon with vegetable sticks
Cheese and apple
5. Can I eat any processed food?
Actually – personally, I think a little is fine, I think everyone needs their treats from time to time, and getting too purist or weird about food may not be healthy psychologically. So as as long as the bulk of your diet is nuturing you and giving you energy, take your time and enjoy the occasional treat. Like Nigel – feel free to have that Maccas on Friday nights.
What about chocolate
You'll probably see nutritionists say a little dark chocolate is okay.
This is because is has only a little sugar, and chocolate is high in nutrients, and the fat is fairly healthy. It is hard to eat a lot of dark chocolate as it is so rich.
See the 90% chocolate on the left – just 1.3 grams of sugar for a 20 gram serve and the 70% on the right 5.8 grams per 20 grams – 1.5 teaspoons of sugar. So go dark and have just a little for a treat.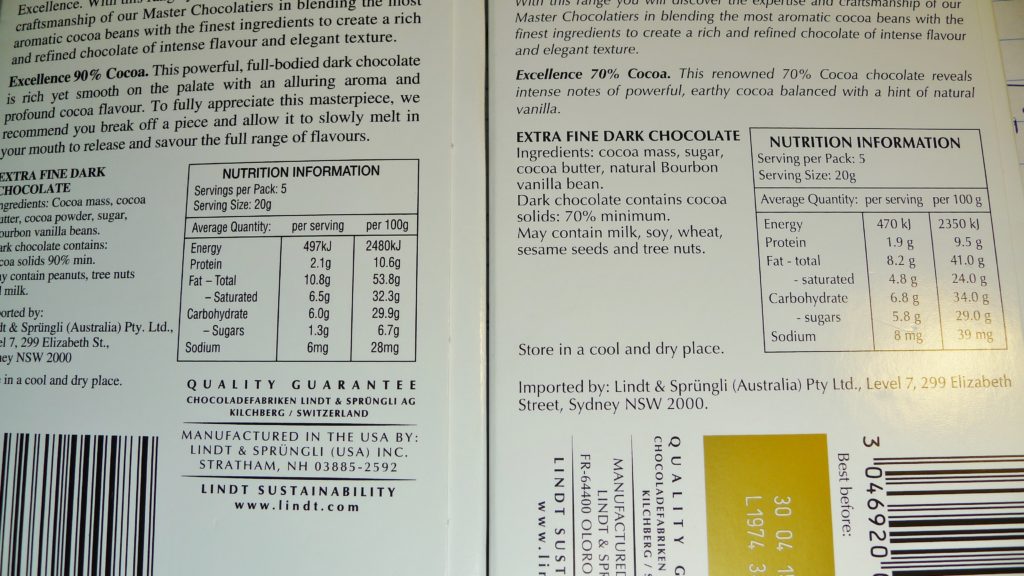 NOTE: If you found value in this post, why not donate (at right) and receive my 80 page paleo zone booklet, with all the info you need to revamp you diet for health and weight loss. Thanks, Julianne 🙂